7000kgs JB HHP Anchors
Category:Offshore Anchor
Material:DH36, Casting Steel
Standards:GBT-548-1996
Certificate:ABS, LR, BV, DNV, GL, RINA, NK, KR, RS, IRS, CCS
Fob Price:Get Latest Price Now
Place of Origin:China
Details
China 7000kgs JB HHP Anchors:
We have all size of JB HHP anchors for sale except 7000kgs, easy installation and high holding power(HHP).
JB HHP Anchors
This Anchor is steel plateanchor,a smooth and excellent penetration in diffierent seabeds.
Anchor is High Holding Power Anchor, big holding-power-to weight ratio and excellent stability.
The weight is from 300KGS to 25000KGS, one of our most popular anchor to the oversea market.
The classification Certificate shall be provided for the anchors, ABS, LR, BV, DNV, NK, GL, IRS, KR and CCS.
JB HHP Anchors Specs: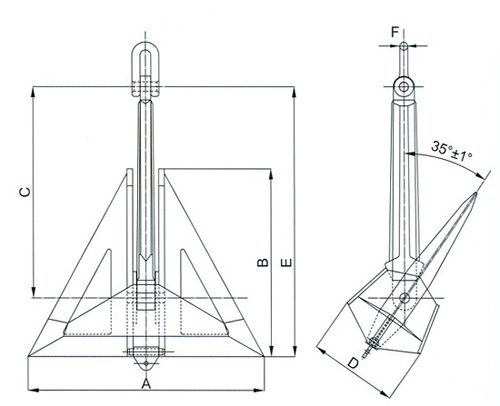 Weight/Mass
(KG)
Size(mm)
A
B
C
D
E
F
300KGS
1200
960
1080
457
1380
45
500KGS
1500
1200
1350
571
1725
50
1000KGS
1875
1500
1686
714
2155
62
1080KGS
1915
1530
1686
722
2200
62
2000KGS
2363
1890
2124
900
2715
82
3000KGS
2700
2160
2430
1028
3105
90
4000KGS
2975
2380
2676
1133
3420
100
5000KGS
3250
2600
2922
1238
3735
110
7000KGS
3575
2860
3216
1361
4100
117
7500KGS
3650
2925
3290
1390
4210
117
8000KGS
3730
2900
3360
1420
43000
130
9000KGS
3950
3160
3555
1504
4543
135
10000KGS
4100
3280
3690
1561
4715
140
12000KGS
4490
3575
4030
1695
5320
145
13500KGS
4670
3720
4195
1765
5535
150
15000KGS
4845
3875
4355
1830
5735
150
18000KGS
5140
4080
4610
1940
6080
160
20000KGS
5330
4260
4790
2010
6310
170
22500KGS
5490
4360
4905
2060
6470
180
25000KGS
5740
4590
5160
2165
6795
195
JB HHP Anchor/Fluke Angle

Proof Load for JB HHP Anchor
anchor weight kg
proof load kN


anchor weight kg
proof load kN


anchor weight kg
proof load kN
50
29.7
2000
434.3
7000
970.3
55
31.7
2100
450
7200
987
60
34
2200
466
7400
1002
65
35.3
2300
480.7
7600
1018
70
37
2400
495
7800
1034
75
39
2500
509.7
8000
1050
80
40.7
2600
524.3
8200
1066
90
44
2700
537
8400
1078
100
47.3
2800
550.3
8600
1088.7
120
53
2900
563.7
8800
1099.3
140
58.3
3000
577
9000
1110
160
63.7
3100
589
9200
1120.7
180
68.4
3200
601
9400
1132
200
73.3
3300
613
9600
1148
225
80
3400
625
9800
1162.7
250
85.7
3500
635.7
10000
1173.3
275
91.7
3600
645
10500
1210
300
98
3700
655.7
11000
1240
325
104.3
3800
666.3
11500
1266.7
350
110.3
3900
677
12000
1300
375
116
4000
687
12500
1340
400
122
4100
696.3
13000
1380
425
127.3
4200
706
13500
1410
450
132
4300
715.7
14000
1450
475
137.3
4400
725.7
14500
1483.3
500
143
4500
735
15000
1520
550
155
4600
742.3
15500
1553.3
600
166
4700
751.7
16000
1586.7
650
177.3
4800
760
16500
1620
700
188
4900
769
17000
1653.3
750
199
5000
111
17500
1686.7
800
210.7
5100
786
18000
1720
850
221.3
5200
797.3
18500
1753.3
900
231
5300
808.7
19000
1780
950
241.7
5400
818
19500
1800
1000
252.3
5500
827.3
20000
1833.3
1050
262
5600
836.3
21000
1900
1100
272.7
5700
845
22000
1956.7
1150
282.7
5800
855.7
23000
2016.7
1200
292
5900
866.3
24000
2070
1250
302
6000
877
25000
2130
1300
311.7
6100
887
26000
2190
1350
321
6200
897.3
27000
2250
1400
330.3
6300
908
28000
2303.3
1450
339.7
6400
917.3
29000
2356.7
1500
349
6500
926.7
30000
2410
1600
366.7
6600
936
31000
2463.3
1700
384
6700
944.7
32000
2516.7
1800
401
6800
953
34000
2623.3
1900
418.3
6900
961
36000
2730
More way to contact us
Tel: 86-23-68428875,68428422,68838417
Fax: 86-4008266163-88928
Email: sales@jinbomarine.com