Superior Delta
Category:Offshore Anchor
Material:Casting Steel and High Quality Steel Plate
Certificate:ABS, LR, BV, DNV, GL, RINA, NK, KR, RS, IRS, CCS
Supply Ability:600Ton each Month
Fob Price:Get Latest Price Now
Place of Origin:China
Details
China Superior Delta:
We supply the marine anchor for more than 7 years, including stockless anchor, offshore anchor, HHP anchor and other anchors.
High Force Triangle Anchors is one type of offshore anchor, the open construction of Delta Anchor offers for a smooth and excellent penetration in a variety of soils. The HHP anchor offers excellent efficiency (weight/ holding power) and easy dismantling for transport purposes. This anchor will hold true in the toughest conditions and will not rotate once it is set, which results in no decrease of holding capacity.
JB HHP Anchor Specification:
Material: Steel Plate and Casting Steel.
Weight of âncora : 300kgs to 25000kgs
Class Certificate: ABS, LR, BV, DNV, GL, NK, CCS.
JB HHP Anchor Dimension: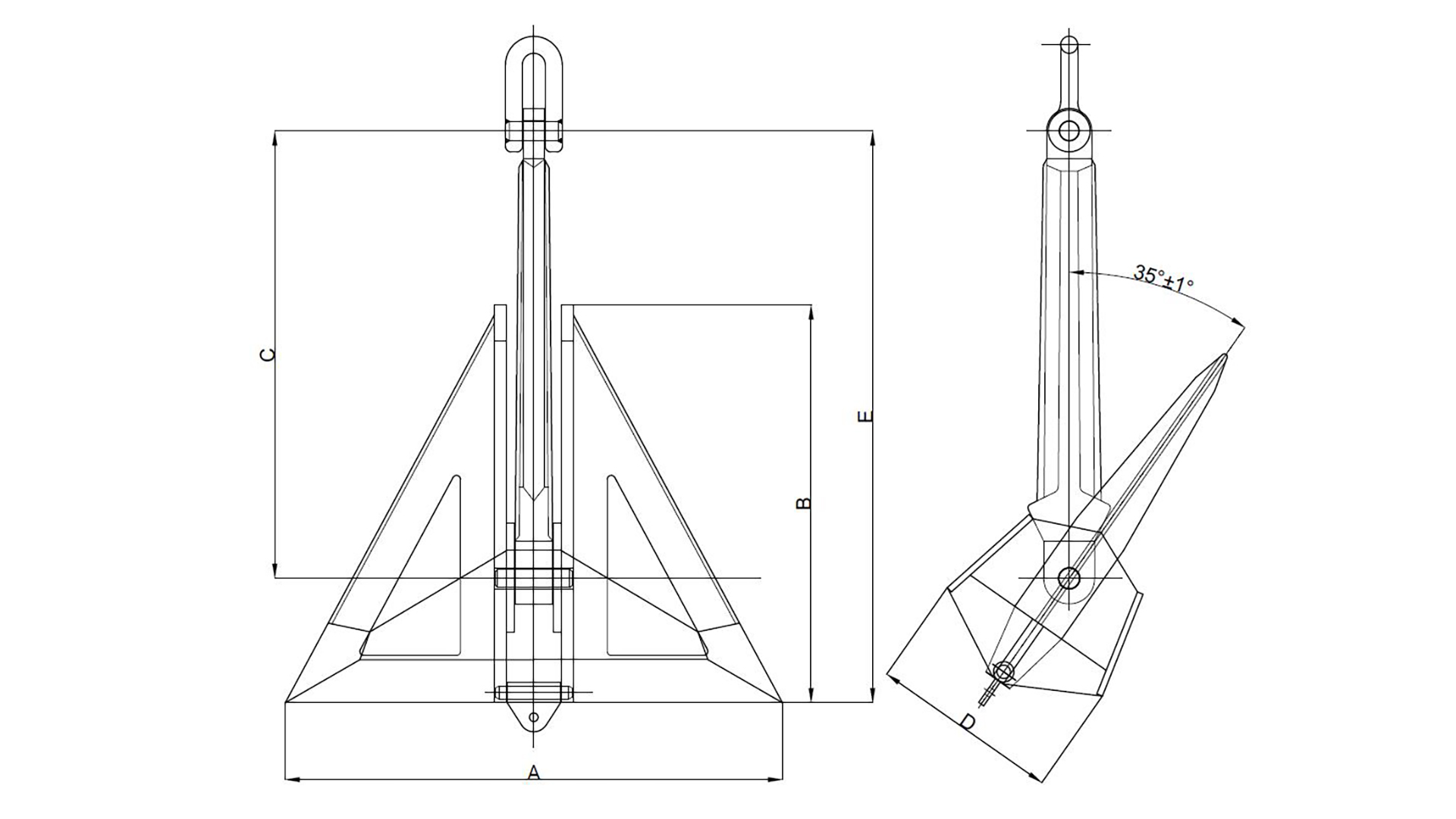 Weight/Mass
(KG)
Size(mm)
A
B
C
D
E
F
300KGS
1200
960
1080
457
1380
45
500KGS
1500
1200
1350
571
1725
50
1000KGS
1875
1500
1686
714
2155
62
1080KGS
1915
1530
1686
722
2200
62
2000KGS
2363
1890
2124
900
2715
82
3000KGS
2700
2160
2430
1028
3105
90
4000KGS
2975
2380
2676
1133
3420
100
5000KGS
3250
2600
2922
1238
3735
110
7000KGS
3575
2860
3216
1361
4100
117
7500KGS
3650
2925
3290
1390
4210
117
8000KGS
3730
2900
3360
1420
43000
130
9000KGS
3950
3160
3555
1504
4543
135
10000KGS
4100
3280
3690
1561
4715
140
12000KGS
4490
3575
4030
1695
5320
145
13500KGS
4670
3720
4195
1765
5535
150
15000KGS
4845
3875
4355
1830
5735
150
18000KGS
5140
4080
4610
1940
6080
160
20000KGS
5330
4260
4790
2010
6310
170
22500KGS
5490
4360
4905
2060
6470
180
25000KGS
5740
4590
5160
2165
6795
195
JB HHP Anchor Photo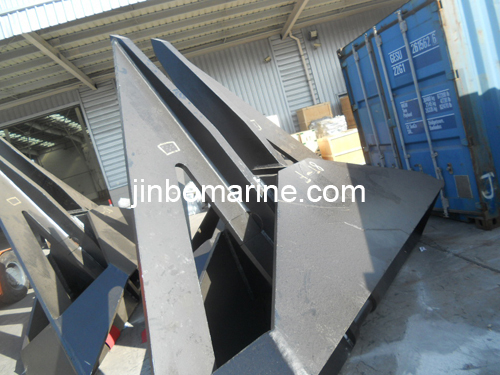 8000KGS HHP Anchor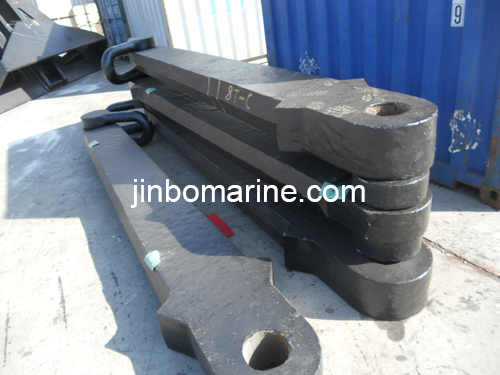 8000kgs HHP Anchor Shank
Proof Load for HHP(High Holding Power) âncora
| | | | | | | | | | | | |
| --- | --- | --- | --- | --- | --- | --- | --- | --- | --- | --- | --- |
| Mass of anchor | Proof test load | Mass of anchor | Proof test load | Mass of achor | Proof test load | Mass of anchor | Proof test load | Mass of anchor | Proof test load | Mass of anchor | Proof test load |
| Kg | kN | Kg | kN | Kg | kN | Kg | kN | Kg | kN | Kg | kN |
| 38 | 23.2 | 413 | 125 | 1650 | 376 | 3600 | 645 | 5850 | 861 | 13125 | 1390 |
| 41 | 25.2 | 450 | 132 | 1725 | 388 | 3675 | 653 | 6000 | 877 | 13500 | 1410 |
| 45 | 27.1 | 488 | 140 | 1800 | 401 | 3750 | 661 | 6150 | 892 | 13875 | 1440 |
| 49 | 28.9 | 525 | 149 | 1875 | 414 | 3825 | 669 | 6300 | 908 | 14250 | 1470 |
| 53 | 30.7 | 563 | 158 | 1950 | 427 | 3900 | 677 | 6450 | 922 | 14625 | 1490 |
| 56 | 32.4 | 600 | 166 | 2025 | 438 | 3975 | 685 | 6600 | 936 | 15000 | 1520 |
| 60 | 33.9 | 638 | 175 | 2100 | 450 | 4050 | 691 | 6750 | 949 | 15750 | 1570 |
| 68 | 36.3 | 675 | 182 | 2175 | 462 | 4125 | 699 | 6900 | 961 | 16500 | 1620 |
| 75 | 39.1 | 713 | 191 | 2250 | 474 | 4200 | 706 | 7050 | 975 | 17250 | 1670 |
| 90 | 44.3 | 750 | 199 | 2325 | 484 | 4275 | 713 | 7200 | 987 | 18000 | 1720 |
| 105 | 49.1 | 788 | 208 | 2400 | 495 | 4350 | 721 | 7350 | 999 | 18750 | 1770 |
| 120 | 53.3 | 825 | 216 | 2475 | 506 | 4425 | 728 | 7500 | 1010 | 19500 | 1800 |
| 135 | 57.4 | 863 | 224 | 2550 | 517 | 4500 | 735 | 7875 | 1040 | 20250 | 1850 |
| 150 | 61.3 | 900 | 231 | 2625 | 528 | 4575 | 740 | 8250 | 1070 | 21000 | 1900 |
| 169 | 66.8 | 938 | 239 | 2700 | 537 | 4650 | 747 | 8625 | 1090 | 21750 | 1940 |
| 188 | 70.4 | 975 | 247 | 2775 | 547 | 4725 | 754 | 9000 | 1110 | 22500 | 1990 |
| 206 | 74.9 | 1013 | 255 | 2850 | 557 | 4800 | 760 | 9375 | 1130 | 23250 | 2030 |
| 225 | 79.6 | 1050 | 262 | 2925 | 567 | 4875 | 767 | 9750 | 1160 | 24000 | 2070 |
| 244 | 84.2 | 1088 | 270 | 3000 | 577 | 4950 | 773 | 10125 | 1180 | 25500 | 2160 |
| 263 | 88.8 | 1125 | 278 | 3075 | 586 | 5025 | 779 | 10500 | 1210 | 27000 | 2250 |
| 281 | 93.4 | 1200 | 292 | 3150 | 595 | 5100 | 786 | 10875 | 1230 | 28500 | 2330 |
| 300 | 97.9 | 1275 | 307 | 3225 | 604 | 5175 | 795 | 11250 | 1260 | 30000 | 2410 |
| 319 | 103 | 1350 | 321 | 3300 | 613 | 5250 | 804 | 11625 | 1270 | 31500 | 2490 |
| 338 | 107 | 1425 | 335 | 3375 | 622 | 5400 | 818 | 12000 | 1300 | 33000 | 2570 |
| 356 | 112 | 1500 | 349 | 3450 | 631 | 5550 | 832 | 12375 | 1330 | 34500 | 2650 |
| 375 | 116 | 1575 | 362 | 3525 | 638 | 5700 | 845 | 12750 | 1360 | 36000 | 2730 |
More way to contact us
Tel: 86-23-68428875,68428422,68838417
Fax: 86-4008266163-88928
Email: sales@jinbomarine.com