95 SPEK Anchor
Category:Marine Stockless Anchor
Material:Casting Steel
Standards:GBT-549-2008
Certificate:ABS, LR, BV, DNV, GL, RINA, NK, KR, RS, IRS, CCS
Delivery Time:30 days
Fob Price:Get Latest Price Now
Place of Origin:China
Details
China 95 SPEK Anchor:
SPEK Anchors is the improved anchor with lower point of gravity based on hall anchor, Anchor fluke grounded easily, more stability, when Anchor SPEK haul up, anchor fluke will turn over against the hull, which would not make damage to ship hull.
SPEK Anchor is easy to install and receovery.
We supply this anchors for new ship building or replacement in Singapore, Indonesia, Malaysia and other countries, please contact us for inquiry.
95 SPEK Anchor Specification:
Material: Casting Steel
Weight: 100KGS to 20000KGS
Class Certificate: ABS, LR, BV, DNV, GL, NK, KR, IRS and CCS
95 SPEK Anchors Dimension: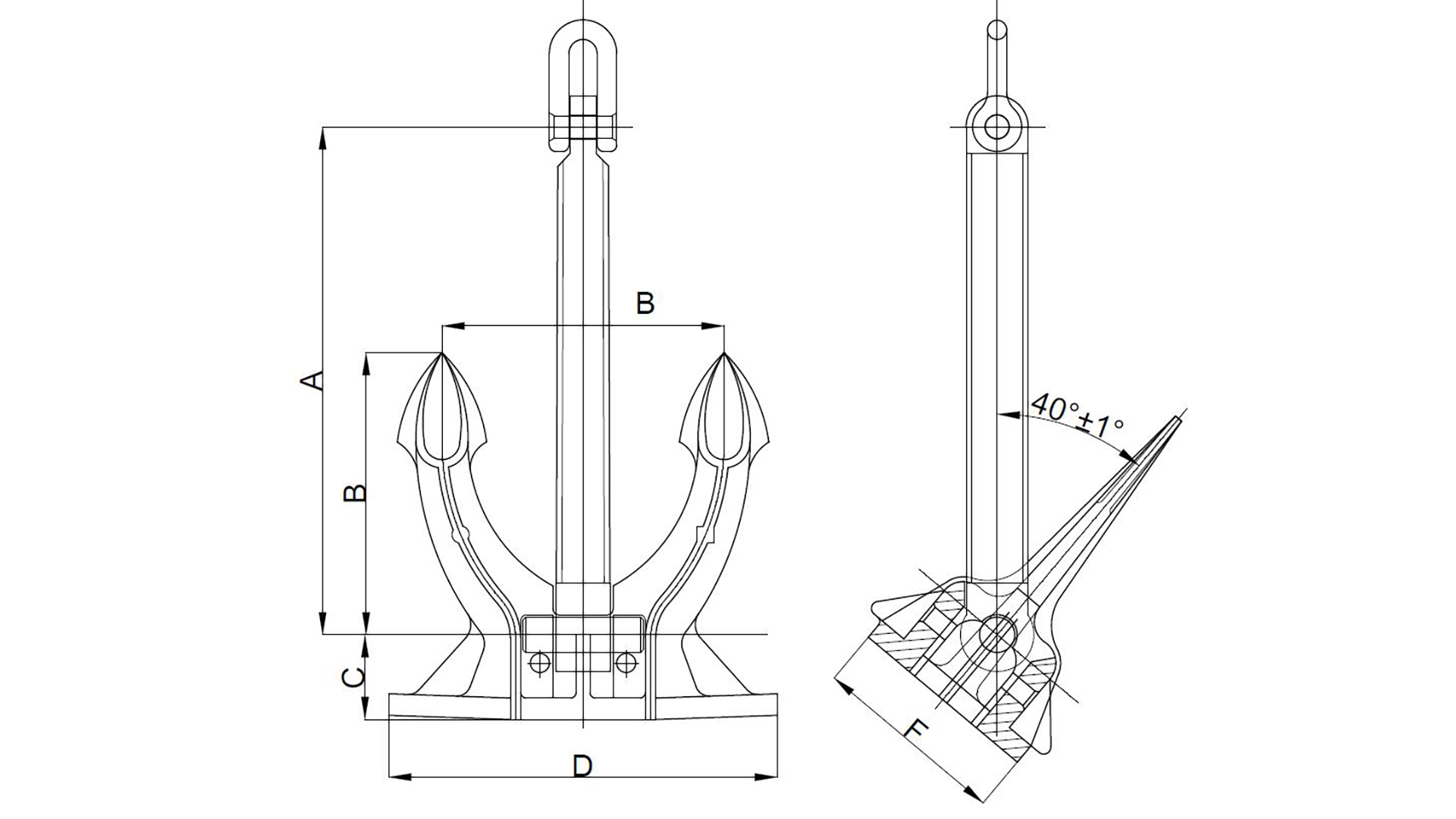 95 SPEK Anchor Drawing
Nominal Weight
(KG)
Size(mm)
A
B
C
D
F
100
672
373
112
515
250
150
770
428
128
590
290
180
846
470
140
640
300
240
900
500
150
690
358
300
990
550
166
760
398
360
1065
600
180
828
431
420
1080
600
180
828
446
500
1170
650
196
900
446
570
1170
650
196
900
486
660
1260
700
210
962
486
780
1355
750
225
1032
547
900
1440
800
240
1100
573
1020
1530
850
252
1170
591
1140
1620
900
268
1240
620
1290
1710
900
268
1240
640
1440
1710
950
279
1300
671
1590
1710
950
279
1378
689
1740
1800
1000
300
1454
704
1920
1850
1050
312
1454
717
2100
1890
1050
312
1454
736
2280
2010
1050
312
1514
764
2460
2010
1100
324
1584
794
2640
2070
1150
352
1584
804
2850
2070
1150
352
1650
820
3060
2160
1200
360
1650
834
3300
2155
1200
360
1650
834
3540
2350
1200
360
1850
880
3780
2430
1350
393
1850
917
4050
2430
1350
393
1926
930
4320
2520
1400
413
1926
930
4590
2520
1400
413
1926
931
4890
2520
1400
413
2000
954
5250
2610
1450
414
2000
964
5610
2610
1450
414
2060
981
6000
2700
1500
446
2060
1006
6450
2700
1500
446
2138
1028
6900
2790
1550
456
2138
1034
7350
2790
1550
456
2138
1062
7800
2920
1550
456
2332
1126
8300
3060
1700
510
2332
1156
8700
3060
1700
510
2332
1169
9300
3060
1700
510
2332
1188
9900
1700
1700
510
2332
1188
10500
1770
1770
531
2440
1212
11100
1770
1770
531
2440
1237
11700
1770
1770
531
2440
1279
12300
1910
1910
573
2632
1279
12900
1910
1910
573
2632
1316
13500
1910
1910
573
2632
1353
14100
1910
1910
573
2632
1369
14700
2050
2050
615
2824
1369
15400
2050
2050
615
2824
1387
16100
2050
2050
615
2824
1387
16900
2120
2120
636
2922
1415
17800
2120
2120
636
2922
1431
18800
2190
2190
657
3018
1461
20000
2190
2190
657
3018
1493
26000
2360
2360
716
3258
1628
9900KGS SPEK Anchor Type 95
Other SPEK Anchor:
More way to contact us
Tel: 86-23-68428875,68428422,68838417
Fax: 86-4008266163-88928
Email: sales@jinbomarine.com