Details
China Hammer Union Figure 206: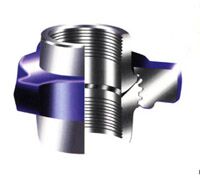 High Pressure Union is made of forged high strength alloy steel. The strict heat treatment ensures the union with uniform microstructure and pressure capacity. The material is in full compliance with the ASTM, AISI standard, technical specification of the product comforms to API Spec 6A standards. The goods is with the features, reliable sealing, fast loading and unloading, good exchangeability. The pipeline joint thread, tubing thread, butt type or non pressure seal end connection are available for the product joint.
Features for Figure 206 Hammer Union:
1.2000PSI NSCWP, test pressure: 3000PSI
2.O-ring in male sub improves sealing and protects metal-to-metal seal against corrosion
3. Replaceable O-ring extends uiion service life
5.Available in butt-weld Sch.40
6. 1 to 10 inch sizes.
Recommened Service for Fig 206:
Manifold and line connections, suction service, and corrosion service
Main Size List:
Nominal Pipe Size

Lenght

Nut Radius

Material

Weight

Nut

Parts

in

mm

in

mm

in

mm

Ibs

kgs

1

25.4

2-11/16

68.3

1-15/16

49.2

SC/SF

CDB/SF

1.75

0.8

11/2

38.1

2-7/8

73.0

2-3/8

60.3

SF

SF

2.37

1.1

2

50.8

3-5/16

84.1

2-29/32

73.8

SF

SF

5.25

2.4

21/2

63.5

4-1/16

103.2

3-11/16

93.7

SF

SF

10.0

4.5

3

76.2

4-3/8

111.1

3-7/8

98.4

SF

SF

15.25

6.9

4

101.6

4-13/16

122.2

5

127.0

SF

SF

20.0

9.1

6

152.4

6-5/8

168.3

6-7/16

163.5

SF

SF

44.5

20.2

8

203.2

7-1/4

184.2

7-11/16

195.3

SF

SF

61.0

27.7
SF-Forged Steel
More way to contact us
Tel: 86-23-68428875,68428422,68838417
Fax: 86-4008266163-88928
Email: sales@jinbomarine.com