Heavy Oil Marine Fuel Homogeniser
Details
China Heavy Oil Marine Fuel Homogeniser:
As found in several independent heavy fuel analysis, the structure of common heavy fuels consist of an average droplet particle size of abt. 70 μ. But more than 90% of the fuel are showing droplets particles larger than 20 μ. When a common droplet will be accelerated it alters to a stretched droplet. This accelerated and stretched droplet will be affected by additional shearing forces, it will be divided into numerous smaller droplets. Each fuel particle will be affected this way several times during MF Homogeniser passage. When this treated droplet will further be affected by sonic frequencies it swings up and will further be divided with each MF passage.
In general a common droplet of 70 μ has a specific volume of apr. 180.000 μ3 with a total surface of apr. 15.400 μ2. A 3μ droplet divided has a specific volume of apr. 14 μ3 with a total surface of 28 μ2. Now the partition of one 70 μ droplet results in apr. 12.960 droplets of 3 μ size.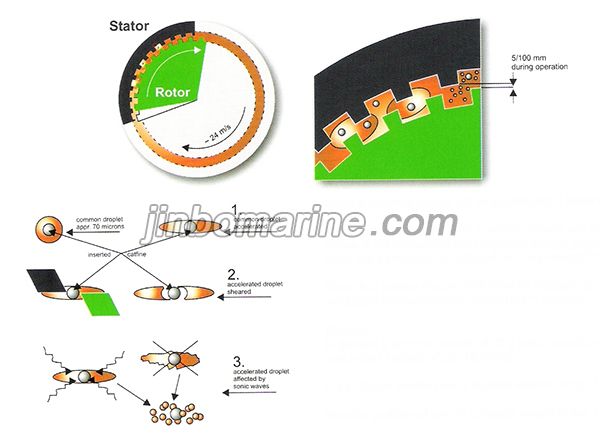 Benefits
Drastically unloaded filters and purifiers
Less visible exhaust emissions (soot / particles / dust)
Increased power output of engines and boilers
Remarkable reduction of abrasive wear and tear on all mechanical parts
Prolonged stability times on mechanical parts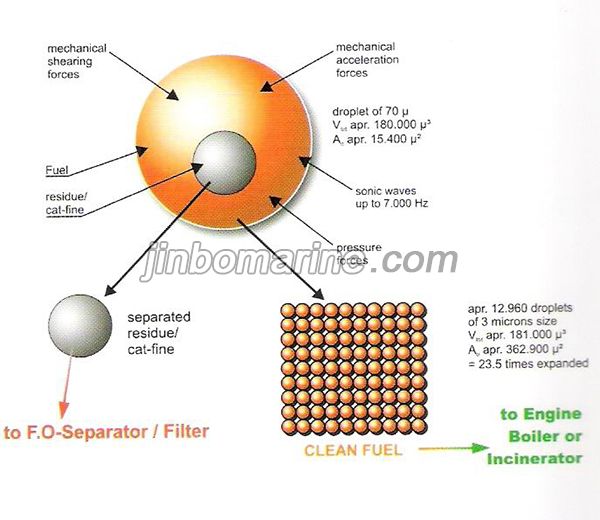 MF Homogenizer with Magnetic Coupling Advantages
Without mechanical seals, no need maintenance
Bushes by special material with long life and smooth-running
When over load, slippage between inner and outer rotor will protect motor
All the fuel treating parts are closed in body, leakage problem is totally solved
Endure high temperature to 150 C. and 3000 p.m., continue working
Heavy Oil Marine Fuel Homogeniser Technical Specifications

Type
MF30
MF60
MF90
MF250
Displacement,m3/h
3.0
6.0
9.0
25.0
Power,KW
3.0
7.5
7.5
22.0
Voltage,V
380/440
Speed,r/min
2880/3490
2900/3520
2930/3540
2940/3550
Pressure,Mpa
<1.0
<1.2
<1.2
<1.6
Temperature,℃
<160
Kinematic viscosity,cSt/50℃
<700
Pipe diameter,mm
34
50
50
70
Motor insulation grade
IP54
Weight
95
130
130
370
L1
724
820
967
1189
L2
312
428
468
520
L3
405
480
550
650
L4
262
360
400
460
L5
92.5
124
124
175
L6
396
484
484
565
L7
75.5
76
76
106
L8
104
108
108
170
H1
188
242
270
305
H2
88
110
110
125
More way to contact us
Tel: 86-23-68428875,68428422,68838417
Fax: 86-4008266163-88928
Email: sales@jinbomarine.com