Manual Release Disc Type Towing Hook
Category:Quick Release Disc Type Towing Hook
Material:Including Q235-A material,35# steel,45 # steel,45Cr, EH36, 65Mn, Q345.The goods can be designed according to your requirements.
Certificate:BV, CCS, ABS ,GL , mill certificate etc.
Standards:Conply with the requirement of classification society.
Fob Price:Get Latest Price Now
Place of Origin:China
Details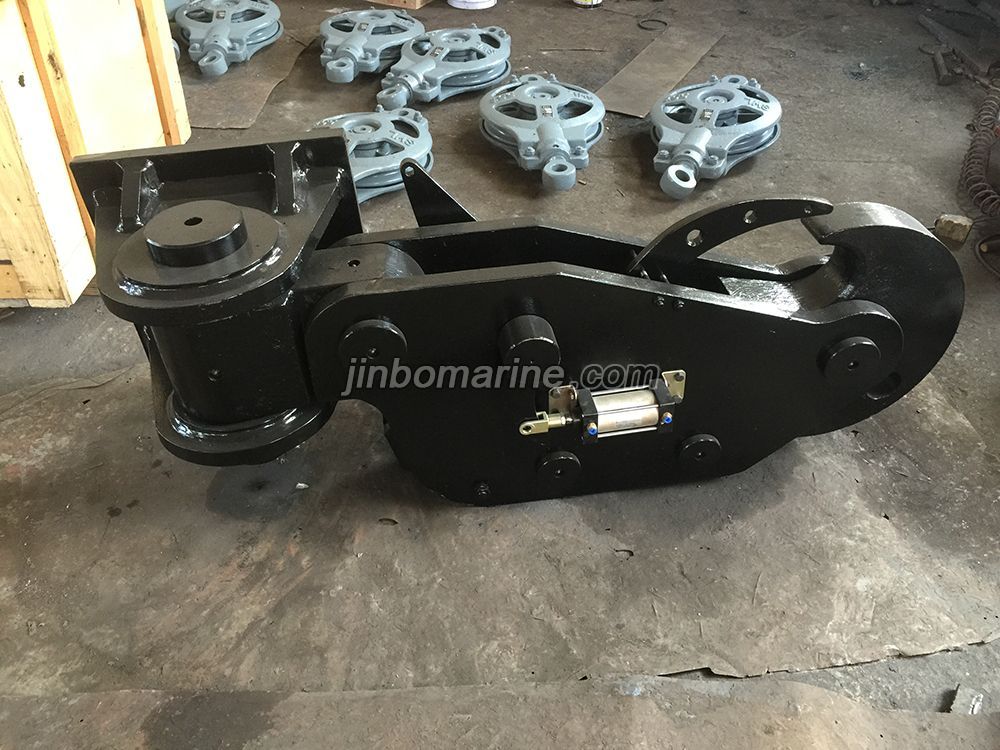 Brief description:
Quick Release Hooks can secure a vessel to a jetty and release a vessel from the jetty fast in an emergency.It can be adapted to ensure the best solution is delivered for most docking situations.
Popular model:
5~7 ton,8~15 ton,16~25 ton,30~45 ton,50~65 ton,70~100 ton.
Type:Manual disc type/hand operated disc type.
Material:Including Q235-A material,35# steel,45 # steel,45Cr, EH36, 65Mn, Q345.The goods can be
designed according to your requirements.
Certificate:BV, CCS, ABS , DNV ,GL , mill certificate etc.
Advantages:
Adopt spark-proof and insulating design for quick release hook used in hazardous zone.
Long work life and minimum maintenance.
Towing flexible.
Specification:
| | | | | | | | | | | | | | | | | | |
| --- | --- | --- | --- | --- | --- | --- | --- | --- | --- | --- | --- | --- | --- | --- | --- | --- | --- |
| Product No. | Safe working load(Kn) | Release load(Kn) | Weight(kg) | A | B | C | D | E | F | G | H | K | L | M | N | O | P |
| MTD-001 | 70 | 70 | 79 | 512 | 712 | 185 | 235 | 100 | 45 | 280 | 291 | 65 | 125 | 60 | 112 | 97 | 260 |
| MTD-002 | 150 | 150 | 174 | 670 | 905 | 255 | 325 | 140 | 60 | 340 | 377 | 100 | 250 | 65 | 144 | 106 | 284 |
| MTD-003 | 250 | 250 | 414 | 923 | 1238 | 355 | 445 | 180 | 80 | 470 | 491 | 130 | 200 | 81 | 186 | 124 | 427 |
| MTD-004 | 450 | 450 | 534 | 973 | 1323 | 355 | 455 | 200 | 100 | 470 | 190 | 130 | 200 | 115 | 218 | 158 | 462 |
| MTD-005 | 650 | 650 | 918 | 1173 | 1598 | 454 | 464 | 220 | 110 | 600 | 608 | 162 | 250 | 125 | 256 | 173 | 487 |
| MTD-006 | 1000 | 1000 | 1282 | 1068 | 1750 | 492 | 632 | 280 | 135 | 650 | 668 | 176 | 290 | 135 | 288 | 182 | 530 |
Applications:
Container berth
General cargo berth
Oil & Gas terminals
LNG & LPG terminals
Offshore-FPSO
Ferry terminals
More way to contact us
Tel: 86-23-68428875,68428422,68838417
Fax: 86-4008266163-88928
Email: sales@jinbomarine.com