Pneumatic Control Harbour Type Towing Hook
Material:Including Q235-A material,35# steel,45 # steel,45Cr, EH36, 65Mn, Q345.The goods can be designed according to your requirements.
Certificate:CCS,BV, ABS ,GL,mill certificate etc can be provide.
Standards:Conform to classification society requirement.
Fob Price:Get Latest Price Now
Place of Origin:China
Details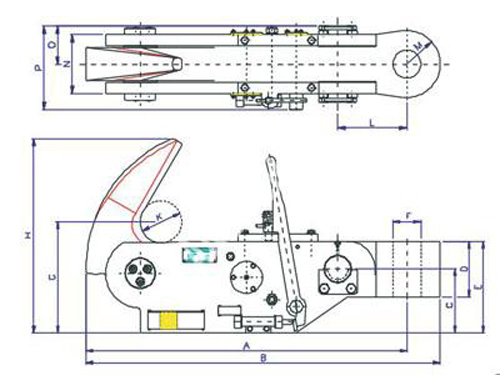 Brief description:
Popular model:15 ton, 30 ton, 45 ton, 56 ton,100 ton etc.
Certificate:CCS,BV, ABS ,DNV,GL,LR,mill certificate etc can be provide.
Feature:
Smooth surface.
Easy to handle and low maintenance.
Safe handling and releasing with a small manual effort.
Applications:
Container berth,General cargo berth,Offshore dock,Ferry dock etc.
Work principle:Leverage.
Ensure the hook and hook knife tight junctions before use it, and make the crankshaft in the working state.
Specification:
| | | | | | | | | | | | | | | | | | | |
| --- | --- | --- | --- | --- | --- | --- | --- | --- | --- | --- | --- | --- | --- | --- | --- | --- | --- | --- |
| Product No. | Safe working load(Kn) | Test load(Kn) | Release load(Kn) | Weight(kg) | A | B | C | D | E | F | G | H | K | L | M | N | N | P |
| PHH-001 | 150 | 300 | 150 | 52 | 521 | 571 | 100 | 100 | 150 | 40 | 174 | 316 | 65 | 110 | 50 | 100 | 100 | 150 |
| PHH-002 | 300 | 600 | 300 | 143 | 788 | 868 | 160 | 130 | 225 | 60 | 268 | 461 | 96 | 180 | 80 | 125 | 125 | 207 |
| PHH-003 | 450 | 900 | 450 | 289 | 1023 | 1123 | 200 | 160 | 260 | 80 | 350 | 616 | 130 | 210 | 100 | 148 | 148 | 224 |
| PHH-004 | 562 | 1125 | 562 | 352 | 1073 | 1183 | 200 | 180 | 290 | 90 | 350 | 616 | 130 | 250 | 110 | 170 | 170 | 245 |
| PHH-005 | 1000 | 1500 | 1000 | 526 | 1159 | 1279 | 230 | 200 | 330 | 100 | 400 | 700 | 150 | 250 | 120 | 212 | 212 | 333 |
More way to contact us
Tel: 86-23-68428875,68428422,68838417
Fax: 86-4008266163-88928
Email: sales@jinbomarine.com