TPYA10-2GL LED Ceiling Light
Details
Application
Applied to military ship and ship illumination of dry cabin, such as the accommodation, passage way,retiring room and so on.
Product Feature
1. Shell adopts good quality steel plate.
2. Lampshade is made of milky white organic glass.
3. LED Light Source, light soft, no glare, supper high uniformity and visual comfort, color>=80%, light rate>70%, life time 30000h,energy saving 50%, new green environmental product, easy installation, general G12 lamp holder.
4. Environment temperature I s -20-45degree within the scope of work.
5. Protection class is IP22.
Standard
1. Chapter 3, Part 4 of Classification Society Rules for Classification of Sea-going Steel Ships 2015 and its Amendments;
2. GB7000.1-2015,Luminaires –Part1:General requirements and tests.
Specification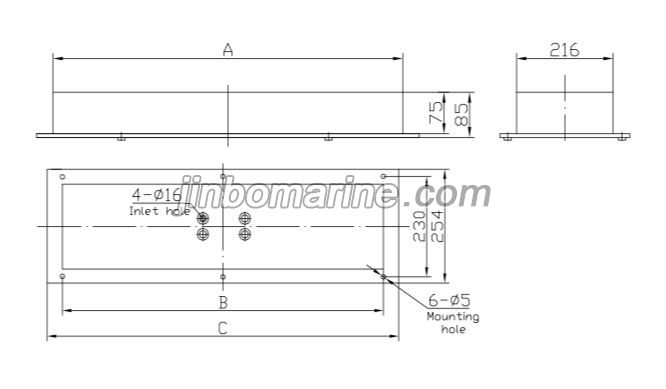 Type
Voltage
Power
Replacement
Liminous Flux
CT
Material
Size
Weight
TPYA10-2GL
110/220V
50/60Hz
<=2x10W
2x18W Fluorescent Lamp
1400lm
3000-6500K
Steel/SS
636x600x674
4.0kg
TPYA20-2GL
<=2x20W
2x36W Fluorescent Lamp
2600lm
3000-6500K
steel
1245x1200x1280
5.8kg
More way to contact us
Tel: 86-23-68428875,68428422,68838417
Fax: 86-4008266163-88928
Email: sales@jinbomarine.com