Transom Mounted Azimuth Thruster
Details
China Transom Mounted Azimuth Thruster: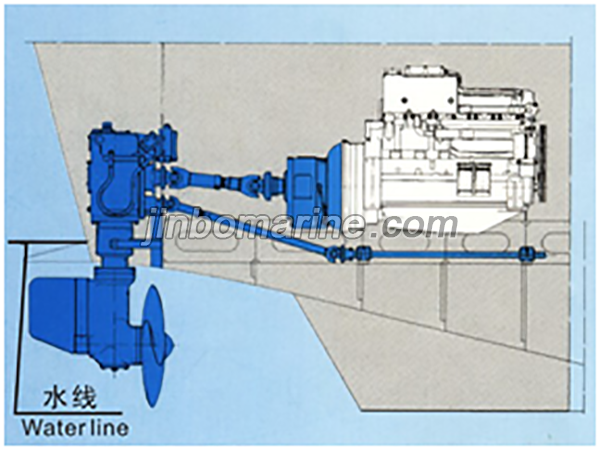 Transom installation is one of the three installation types. It is used for ships and vessels whose space of engine room are smaller, such as floating cranes, mounting plate with sealing is fixed on the plate. That is, the upper of the Rudder propeller is fixed on the pin axis, and the lower is clamped on the pushing ring. When releasing the thruster bearing, the propeller can easily be elevated backwards.
Transom-mounted units are ideal for applications where sufficient free board is available.
They can be welded to the transom or sides of vessels, barges or platforms.
Frequent immersion from wave action is no problem.
The engine and hydraulic power unit may be installed on deck or in an engine room at any convenient location.
A single engine may power multiple transom-mounted thrusters.
Specification
Type
Input power max.[KW]
Input Speed Rated.[rpm]
Input torque max.[N.m]
Propeller Dia. Max.&[mm]
Reduction Ratio i
Weight[kg]
SRP45
100
2500
450
800
2.5
190
SRP85
210
2350
850
950
2.68
400
SRP138
260
2000
1380
1100
3.01
1200
SRP180A
340
1800
1800
1150
3.46
1450
SRP180B
280
1500
2.88
SRP180C
180
1000
2.526
1450
SRP226
350
1800
2260
1350
3.34
2000
SRP280
480
2800
1550
3.96
2100
SRP310A
580
3070
1550
3.718
2500
SRP310B
1500
3800
3.002
2600
SRP330
620
1800
3300
1600
4.04
2800
SRP330B
620
1500
4100
3.26
SRP428A
735
1800
4280
1600
4.35
4500
SRP428B
1500
5220
3.671
SRP428C
1000
7140
2.769
SRP550
920
1800
5423
1800
5.059
6000
SRP1000
1000
9762
2.804
SRP1150
1103
11500
1800
2.775
7000
SRP1150A
750
15280
2.102
SRP1450
1324
1000
14800
2100
3.257
17000
SRP1850
750
18500
2.44
18000
SRP1850B
825
17900
2.68
SRP1850C
900
16200
2.93
SRP2000A
1545
525
30000
2200
1.925
20000
SRP2000
1471
750
20000
2.74
SRP2000B
825
18800
3.01
SRP2000C
900
17500
3.257
SRP2000D
1000
16000
3.66
SRP2500A
1912
750
31200
2450
3.32
24000
SRP2500B
825
28360
3.453
SRP2500C
900
26000
3.983
SRP2500D
1000
26000
4.42
SRP3000A
2206
750
31200
2650
3.32
28000
SRP3000B
825
28360
3.453
SRP3000C
900
26000
3.983
SRP3000D
1000
26000
4.424
SRP4000A
3000
750
42000
3200
4.41
53000
SRP4000B
825
38200
4.85
SRP4000C
900
35000
5.29
SRP4000D
1000
32000
5.88
More way to contact us
Tel: 86-23-68428875,68428422,68838417
Fax: 86-4008266163-88928
Email: sales@jinbomarine.com