Well type Azimuth Thruster
Details
China Well type Azimuth Thruster: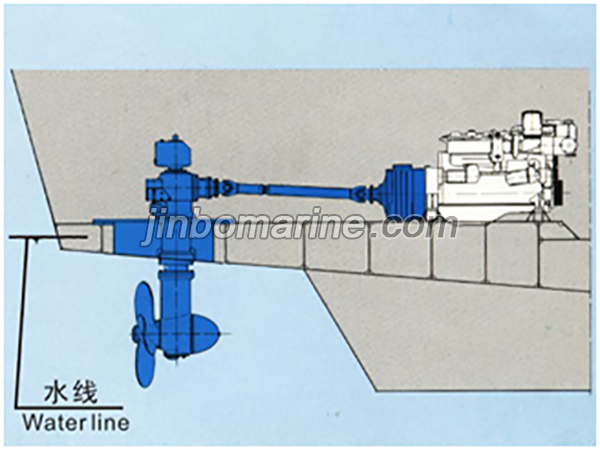 It is mounted in the well. The stem length varies with the requirement of the application. The top mounting plate of the well should be above the waterline so that the rudder propeller can be installed and removed when the ship is floating.
Well installation varies with the distance between the rudder propeller and the diesel engine .When the engine room is very small ,the rudder propeller can be near to the diesel engine and suitable for application in long range transmission between diesel engine and rudder propeller.
The well installation is especially for tugs, ferries, well station, floating dock and survey ships.Propeller diameter from 500mm-4200 mm,drive power 20 kw -4500 kw .
Key feature
Combined design propeller and nozzle together, enlarge diameter of propeller and low down its rotate speed, which keep high propulsion efficiency and enhance thrust force.
Carefully design the rudder-rod profile and its displace from propeller, which improve propulsion efficiency and reduce vibration, especially reduce steering torque.
Adopt high-strength gear and bearing of high speed, seals and pipeline also being carefully design, which improve the system's reliability and longevity.
The steering mechanism can be drived by electrical motor or hydraulic motor.
According to the difference of operation condition, it can be divided into three kind: FPP with nozzle, CPP with nozzle, without nozzle.
In board installation, with the steerable thruster to be mounted from either top or bottom. Jinbo Marine can supply the full propulsion package including prime mover and intermediate shafting.
Specification
Model

Input power

Input speed

Propeller diameter

Propeller type

Max force

(kW)

(rpm)

(mm)

(T)

RP

20-150

1500-2500

500/600/700

FPP

3.4

RP

150-250

1500-2350

700/800/900

FPP

2.9

RP

230-480

1200-2350

900/1000/1100

FPP

7.4

RP

420-690

830-1800

1200/1300/1400

FPP/CPP

11.1

RP

650-980

830-1800

1500/1600/1700

FPP/CPP

16.1

RP

950-1500

830-1500

1900/2000/2100

FPP/CPP

24.3

RP

1320-1750

750-1500

2200/2300/2400

FPP/CPP

29.3

RP

1650-2250

550-1200

2400/2500/2600

FPP/CPP

36.9

RP

2200-2600

550-1200

2600/2700/2800

FPP/CPP

42.6

RP

2350-3400

550-1200

2900/3200/3500

FPP/CPP

58.1

RP

3350-4500

750-1000

3800/4000/4200

FPP/CPP

79.5
More way to contact us
Tel: 86-23-68428875,68428422,68838417
Fax: 86-4008266163-88928
Email: sales@jinbomarine.com