Admiralty Anchor
Category:Marine Stock Anchor
Material:Casting Steel
Standards:GBT-548-1996
Certificate:ABS, LR, BV, DNV, GL, RINA, NK, KR, RS, IRS, CCS
Fob Price:Get Latest Price Now
Place of Origin:China
Details
China Admiralty Anchor: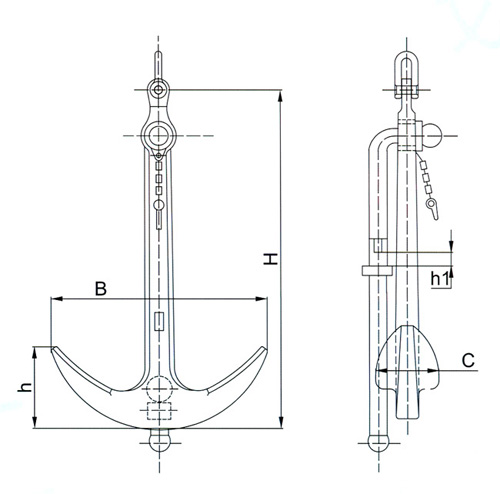 Admiralty Anchor
Admiralty Anchor is two arms on one end of shank, stock is on the other hand of shank, which is ninety degrees to the arms. The weight is from 50KGS to 10000KGS.
If you have special requirement, please contact us.
Technical Specification:
Material: Casting Steel
Weight: 60KGS-2500KGS
Classification: LR, ABS, DNV, GL, BV, NK, KR, IRS and CCS Certificate.
Dimension Table:
Nominal Weight
(KG)
Size(mm)
H
h
h1
B
C
50
960
230
42
635
185
75
1105
266
45
710
210
100
1215
296
49
780
230
125
1310
316
52
840
245
150
1395
336
55
900
265
200
1535
370
61
990
290
250
1650
398
65
1065
310
300
1755
423
70
1105
330
400
1930
465
77
1240
365
500
2080
502
84
1335
390
600
2210
533
89
1440
415
700
2330
560
93
1500
440
800
2435
587
97
1570
460
900
2530
610
101
1630
475
1000
2620
611
104
1685
495
1250
2825
680
112
1810
535
1500
3000
725
118
1955
565
2000
3300
797
131
2140
625
2500
3550
857
138
2270
672
3000
3780
912
150
2415
715
3500
3980
960
158
2540
750
4000
4160
1000
155
2650
785
5000
4480
1100
184
2830
800
6000
4740
1113
190
3000
438
7000
5025
1180
200
3165
960
8000
5240
1280
210
3300
980
9000
5450
1330
220
3440
990
10000
5680
1340
230
3600
1085
300KGS Admiralty Anchor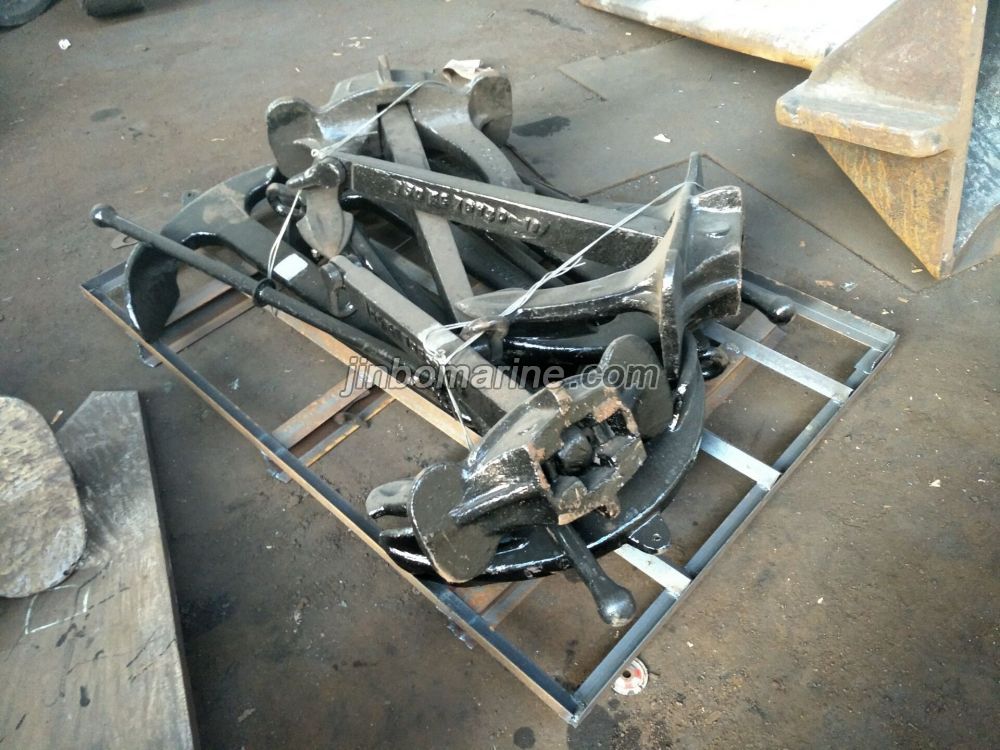 More way to contact us
Tel: 86-23-68428875,68428422,68838417
Fax: 86-4008266163-88928
Email: sales@jinbomarine.com