Details
China Chain grapnel:
It designedas a "Fishing" tool primarily for the purpose of recovering andanchor and chain which has become detached and has fallen to the seabed.
The Head Eye is attached to the trawl cable and the Tail Eye may be attached toa trailing cable for the purpose of withdrawing the Grapnel in the event thatthe flukes engage with and "immovable" object on the seabed
Feature:
1.Excellent quality and competitive price .
2.Durable, long lifetime.
3. Standard or customerized.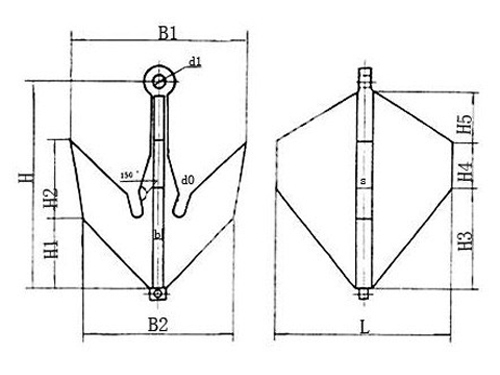 CHAIN GRAPNEL
Model
d0
d1
b
S
B1
B2
L
H1
H2
H3
H4
H5
H
Shackle
Weight
(mm)
(mm)
(mm)
(mm)
(mm)
(mm)
(mm)
(mm)
(mm)
(mm)
(mm)
(mm)
(mm)
CB 547-76
(kg)
22
26
36
22
34
352
296
354
140
154
200
90
83
410
a6
27.3
28
32
47
30
45
463
390
463
183
203
263
120
103
538
a9
62
34
40
57
37
56
574
484
574
226
251
326
150
134
667
a11
118
40
46
67
44
66
685
577
685
270
300
390
178
160
795
a13
197
46
52
77
52
77
796
670
796
314
348
452
206
190
925
a14
310
53
60
83
59
88
907
764
907
358
397
515
235
220
1054
a15
460
62
70
94
74
112
1147
967
1147
453
502
650
298
290
1333
a16
945
67
75
104
80
121
1240
1045
1240
490
543
704
322
310
1440
a17
1190
72
80
115
86
130
1332
1123
1332
526
583
756
346
330
1548
a19
1480
77
85
120
92
139
1425
1200
1425
562
624
810
370
356
1656
a20
1800
82
90
125
98
148
1517
1280
1517
600
664
860
394
384
1763
a22
2170
87
97
135
104
156
1610
1357
1610
635
705
914
418
400
1870
a23
2600
92
102
140
110
166
1702
1435
1702
672
745
966
442
430
1978
a24
3085
97
107
145
116
175
1795
1513
1795
708
786
1020
466
455
2086
a25
3620
102
112
150
122
184
1887
1590
1887
745
826
1070
490
480
2193
—
4120
107
117
160
128
192
1980
1670
1980
780
867
1124
514
502
2300
—
4840
112
122
170
134
202
2072
1747
2072
818
907
1176
538
524
2408
—
5570
117
127
175
140
210
2165
1825
2165
854
948
1230
560
551
2516
—
6340
122
132
180
146
220
2257
1903
2257
890
988
1280
585
580
2625
—
7190
More way to contact us
Tel: 86-23-68428875,68428422,68838417
Fax: 86-4008266163-88928
Email: sales@jinbomarine.com