GFM16-1A Fire Extinguisher Dry Powder Filling Machine
Details
China GFM16-1A Fire Extinguisher Dry Powder Filling Machine:
GFM16-1A fire extinguisher dry powder filling machine is developed by our factory after absorbing the advantages of powder fillers at home and abroad. It can quickly suck dry powder into the cylinder and be directly filled in the container by vacuum fluidics, and it can also conduct sucking and filling simultaneously.
It features small volume, easy movement,simple operation and lack of environmental pollution. Thus labor intensity is
decreased and work environment is improved. It is especially suitable for the filling, production and maintenance of dry powder extinguisher and also suitable for filling various powder products. So it is an ideal equipment in the powder filling industry.
Specifications:
Overall size:400X800X1350mm(W×L×H)
Weight: 90 kg
Voltage:380V or 220V 50Hz
Power:1.1KW
Filling speed: 4kg/min
Filling residue: 1 kg ≤ 0.04
Structure: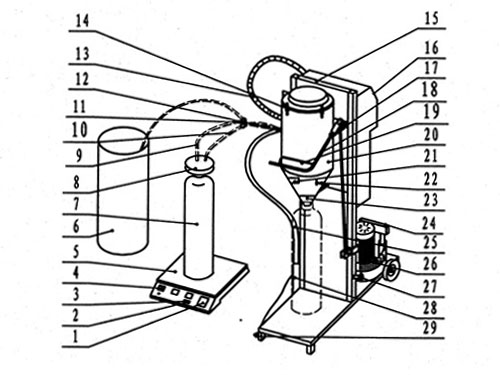 1.Digital operating panel on the weighing bridge 2.【Shelling】key
3.【Reset】key 4. Weight screen 5. Electronic weighting bridge
6. Powder suction pipe I 7. Cylinder of extinguisher to be filled
8. Filling end cover 9. Window of powder cylinder
10. Powder suction pipe II 11. Air suction pipe 12. Powder source
13. Powder suction port 14. Pipe support 15. Cylinder block
16. Main air pipe 17. Elevating gear 18. Electricalbox 19. Powder cylinder
20. Adjustable bolt
21. Valve of powder cylinder 22. Rubber sleeve 23. Elevating handle
24. Descending stopping handgrip 25. Direction valve 26. Base 27. Fanning machine 28. Adjusting Pin 29. Reversal pedal
Our advantages:
Fast delivery,excellent quality,good after service.
More way to contact us
Tel: 86-23-68428875,68428422,68838417
Fax: 86-4008266163-88928
Email: sales@jinbomarine.com