GFM8-2 Automatic Powder Filling Machine
Details
China GFM8-2 Automatic Powder Filling Machine:
GFM8-2 automatic powder filling machine is a new product developed and designed by our factory in combination with the
characteristic of actual filling with reference to the advantages of its counterparts at home and abroad. Powder is rapidly absorbed into the cylinder to be filled by vacuum jet current. It is equipped with T3806 weight display of high precision and SP-T printer. The filling is automatic and quantitative. The residual dust on the filter is cleared by use of the negative pressure produced by vacuum. As it integrates electronics, electrical device and machinery into one entity, labor intensity is lowered and work environment improved.
It is characterized by small volume, light weight, lower energy consumption, easy movement, simple operation and longer service life. So it is specially suitable for powder filling of fire extinguisher and also ideal for other powder filling sector.
Main Technical Parameters
Volume: Length×Width×Height (1130mm×520mm×1350mm)
Weight:200kg
Voltage: AC 380v/220v 50Hz AC220V 50Hz
Power: 0.55KW 1.5Kw
Filling precision:1kg≤+0.15
Filling speed: 6-12kg/min
Schematic Diagram of GFM8-2 Automatic Powder Filling Machine: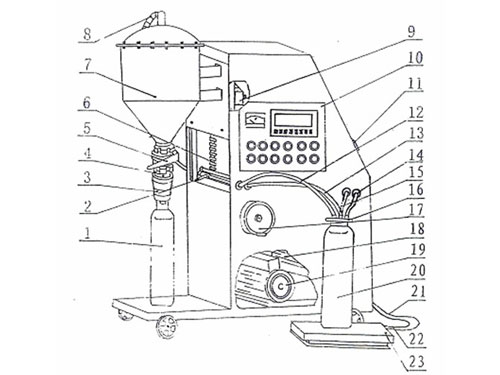 1. Residual powder cylinder 2. Manual snift valve 3. Powder discharge outlet 4. Visual window 5. Filter assembly valve 6. Elevating screw 7. Filter assembly 8. Air main 9. Time relay 10. Control panel for electric devices 11. Power switch (leakage protector) 12. Suction pipe 13. Powder suction pipe (Be applicable for the filling of4 kgand below )14. Admitting pipe 15. Power suction pipe (Be applicable for the filling of above5 kg) 16. End cap for filling 17. Elevating hand-wheel 18. Motor 19. Vacuum pump 20. Cylinder to be filled 21. Sensor wire 22. Ground wire for scale bench 23. Electronic scale bench
Our advantages:
Fast delivery,excellent quality,good after service.
More way to contact us
Tel: 86-23-68428875,68428422,68838417
Fax: 86-4008266163-88928
Email: sales@jinbomarine.com