Marine Cast Steel Flanged Anlge Check Valve GB/T586-1999 Type B/BS
Category:GB Marine Check Valve
Material:Cast Steel
Standards:GB/T586-1999, CBM1050-81, CBM1053-81
Certificate:CCS, BV, ABS, GL, LR, DNV, NK,RINA, KR,IRS
Fob Price:Get Latest Price Now
Place of Origin:China
Details
China Marine Cast Steel Flanged Anlge Check Valve GB/T586-1999 Type B/BS: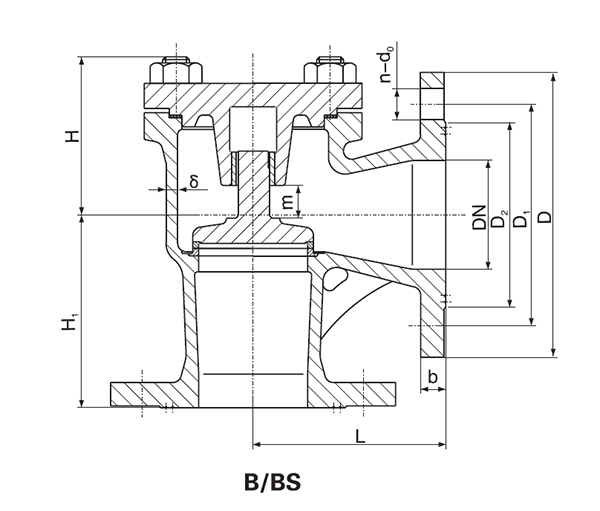 Marine Cast Steel Flanged Angle Check Valve GB/T586-93 Type B/BS is the angle lift check valve used on the angle marine pipe system to prevent the backflow of medium.
Technical Specification:
Design and Manufacturing Standard: GB/T586-1999, CBM1050-81, CBM1053-81
Test Standard: GB600
Flange size as per GB569, GB2501
Hydraulic Test Pressure: 1.5 times of nominal pressure for body. 1.1 times of nominal pressure for seat.
Nominal Pressure(Mpa)
Nominal Diameter(mm)
Applicalbel Medium
1.0
65~125
fresh water, lubrication oil, fuel oil, steam not over 300℃
1.6
20~125
2.5
20~100
Main Material:
Body-Cast Steel
Bonnet-Cast Steel
Disc Seal Ring-Welded Stainless Steel
Body Sea Ring-Welded Stainless Steel
Main Size List(mm):
Type A/B (Flange Size as per GB569):
PN (MPa)
DN(mm)
Structure Dimension
Thickness δ
Flange
Bolt
Lift Range
m
Weight(kg)
L
H≈
H1
A
B
A
B
B
D
D1
D2
d0
b
n
Th.
A
B
1.0
65
290
1 15
124
91
115
6
155
123
104
15
14
6
M14
18
12.5
10.6
80
310
125
151
110
125
7
170
138
118
15
14
8
M14
24
15.6
14.4
100
350
150
165
116
135
8
190
158
138
15
14
8
M14
35
24.5
19.9
125
400
175
184
124
155
8
215
183
164
15
14
10
M14
44
31.9
27.5
1.6
20
150
75
84
70
75
6
95
68
48
13
11
4
M12
7
3.3
3.2
25
160
80
84
70
80
6
105
73
56
13
12
4
M12
7
3.9
3.8
32
180
85
90
70
85
6
115
83
64
15
13
6
M14
9
5.8
5 1
40
200
90
99
75
90
7
125
93
74
15
13
6
M14
11
7.1
6.3
50
230
95
110
81
95
7
135
103
84
15
13
6
M14
14
8.8
8.5
65
290
1 15
128
94
115
7
170
132
110
17
15
8
M16
18
13.5
11.5
80
310
125
156
115
125
7
185
147
126
17
16
8
M16
24
18.0
16.9
100
350
150
158
119
135
8
205
167
146
17
15
10
M16
35
26.3
22.7
Type AS, BS (Flange Size as per GB2501):
PN (MPa)
DN(mm)
Structure Dimension
Thickness δ
Flange
Flange
Lift Range
m
Weight(kg)
L
H≈
H1
AS
BS
AS
BS
BS
D
D1
D2
d0
b
n
Th.
AS
BS
1.6
100
350
175
158
119
175
8
220
180
158
18
22
8
M16
28
30.4
28.1
125
400
200
184
124
200
8
250
210
184
18
22
8
M16
35
39.6
35.2
2.5
20
150
95
84
70
95
6
105
75
58
14
16
4
M12
7
4.2
4.2
25
160
100
84
70
100
6
115
85
68
14
16
4
M12
7
4.9
5.0
32
180
105
90
70
105
6
140
100
78
18
18
4
M16
9
8.4
7.9
40
200
115
99
75
115
7
150
1 10
88
18
18
4
M16
12
8.9
8.8
50
230
125
110
81
125
7
165
125
102
18
20
4
M16
15
10.4
10 1
65
290
145
128
94
145
7
185
145
122
18
22
8
M16
19
16.6
15.3
80
310
155
156
115
155
7
200
160
133
18
24
8
M16
23
22.1
20.0
100
350
175
158
119
175
8
235
190
158
22
24
8
M20
28
31.5
29.2
More way to contact us
Tel: 86-23-68428875,68428422,68838417
Fax: 86-4008266163-88928
Email: sales@jinbomarine.com