Pneumatic Control Spring Towing Hook
Category:Spring Towing Hook
Material:Including Q235-A material,35# steel,35 Crmo, 60Si2Mn。The goods can be designed according to your requirements.
Standards:All standards conform to classification society requirement.
Certificate:Certificate with CCS, BV, ABS ,GL , mill certificate etc.
Fob Price:Get Latest Price Now
Place of Origin:China
Details
China Pneumatic Control Spring Towing Hook: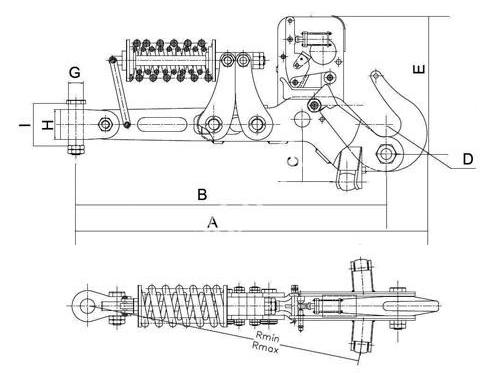 It is use for towing with steel,nylon or polypropylene ropes. it can be released manually or from the wheel house by pulling the release wire or by pushing a button. Remote control systems can be supplied with either a hydraulic or pneumatic release mechanism.
Popular model:5 ton,8 ton,10 ton,11 ton,12 ton,16 ton,25 ton,30 ton,40 ton
Type:Pneumatic control spring Type,air control spring type.
Operation mode: Side movement
Material:Including Q235-A material,35# steel,35 Crmo, 60Si2Mn.
Certificate with CCS, BV, ABS , DNV ,GL , mill certificate etc.
Size chart:
Product No.

Max Towing power(ton)

Main
Size(mm)

Weight

Connection
Size(mm)

Action
Radius(mm)

Cylinder

A

B

C

D

E

(KG)

G

H

I

Max
R

Min
R

Air
Pressure

PSH-001

20

1830

1630

340

R50

614

342

70

150

210

1475

1400

6--8

PSH-002

30

2015

1780

384

R70

805

595

85

170

240

1805

1690

PSH-003

40

1935

1655

404

R75

830

697

90

190

260

1590

1490

PSH-004

60

2270

1906

485

R90

940

1234

110

240

340

1845

1740
More way to contact us
Tel: 86-23-68428875,68428422,68838417
Fax: 86-4008266163-88928
Email: sales@jinbomarine.com