Diving Breathing High Pressure Air Compressor VF-206
Details
China Diving Breathing High Pressure Air Compressor VF-206:
VF-206 high pressure air compressor is designed for breathing in diving, firefighting. It compresses free air to 30Mpa and removes oil, vapor and other contaminants by filters and separators. It is safe and reliable source of pure air. The air quality accords to EN international breathing compressed air quality.
Features
Air-cooling piston reciprocating
Oil splash lubrication
Copper pipe inter-cooler and after cooler
Specially treated alloy cylinder, piston and piston ring
High-strength nylon cooling fan assembly
Intake filter
Anti-shock floor mat
Manual condensate drain knob
Filling hose and filling valve
Safety valves protection for every stage
High temperature resistance plastic powder coating steel frame and base
Activated carbon, monocular sieve for air purification in the filter
Consumables and manuals are provided with every compressor
The warranty period is 1 years
Standard
GB18435-2001
EN12021
VF-206 is not only driven by three-phase and single-phase motors, but also equipped with gasoline engines for field or offshore operation.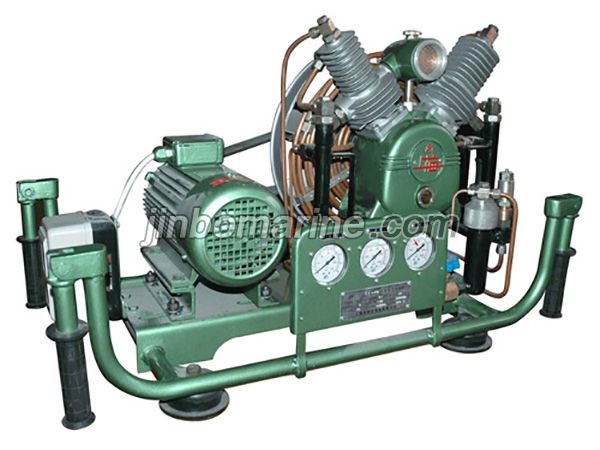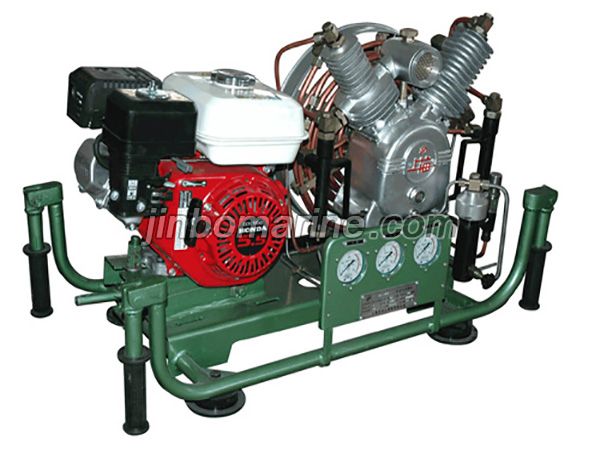 Diving Breathing High Pressure Air Compressor VF-206 Main Specifications
| | | | | | | | |
| --- | --- | --- | --- | --- | --- | --- | --- |
| Model | Drive | Operating pressure | Delivery rate | Power | Dimension | Net weight | Noise level |
| VF-206C | Honda engine | Max 200BAR | 100L/min | 5.5Hp | 89*46*60Cm | 71 kg | <78dB(A) |
| VF-206A | Three-phase motor | Max 300BAR | 100L/min | 3kw | 89*46*60Cm | 68 kg | <78dB(A) |
| VF-206B | Single-phase motor | Max 200BAR | 100L/min | 2.2kw | 89*46*60Cm | 69 kg | <78dB(A) |
More way to contact us
Tel: 86-23-68428875,68428422,68838417
Fax: 86-4008266163-88928
Email: sales@jinbomarine.com