WGP2 Marine Horizontal Electrical Window Wiper
Details
China WGP2 Marine Horizontal Electrical Window Wiper:
WGP2 Type Horizontal Electrical Window Woper is new type to be used for side scuttles in the pilot house and operating cab. It is powered by an speed-adjustable motor. Its guide rail is made of aluminum alloy,which drives rubber wiper blade mounted at lower end of stainless steel swing rod.
Main Technical Data
1. Power Supply: AC220V, AC110V or DC24V.
2. Frequency:50HZ/60HZ.
3. Wiper Speed:0.5-1.2M/Sec.
4. Consumed Power of Motor:<=120W.
5. Consumed power of Heater: <=300W.
6. Protection Grade: IP56.
7. Outline Dimension of control box: Box 130x100x132mm, Faceplate:150x120x4.
8. Power Box Extenernal Dimension: Box 250x200x145mm, Mounted Dimension: 280x170.
9. Weight: 26KGS.
10. Optional: Heater, Waterworks, automatic resetting.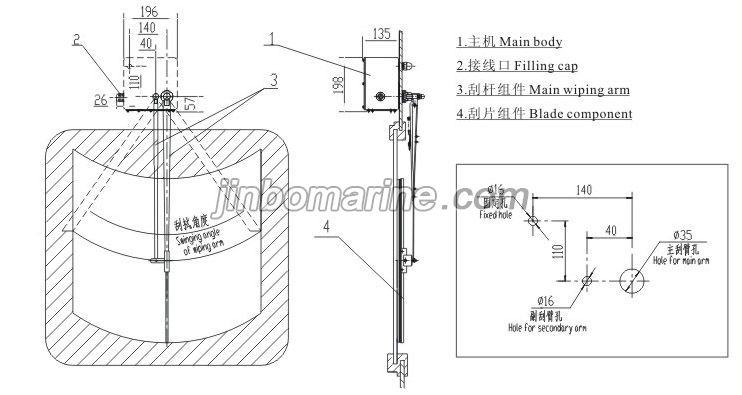 Type
Power
Body Length
Wiper Stroke
Arm Length
Blade Length
WGP2-JR
AC220V/AC110V
1000-3000mm
500-2700mm
400-800mm
400-1000mm
WGP-ZR
DC24V
How to Order?
1. Please specify the model, swing distance, swing length, blade length, number of swing arms and addional heater.
2. Please specify if special requirement.
More way to contact us
Tel: 86-23-68428875,68428422,68838417
Fax: 86-4008266163-88928
Email: sales@jinbomarine.com