CCS Approved Marine Starting Air Compressor CVF-43
Details
China CCS Approved Marine Starting Air Compressor CVF-43:
Model: CVF-43
Delivery pressure: 3.0Mpa
Capacity: 30m3/h,36m3/h,44m3/h.
Bore diameter: 110/50mm
Stroke: 68mm
Number of Cylinder: 2
Cooling Method: air cooled
Second stage compression
Piston type
Suitable for air bottle equal or smaller than 0.1 m3 to 0.5 m3
Feature
High Efficiency,energy saving,low noise.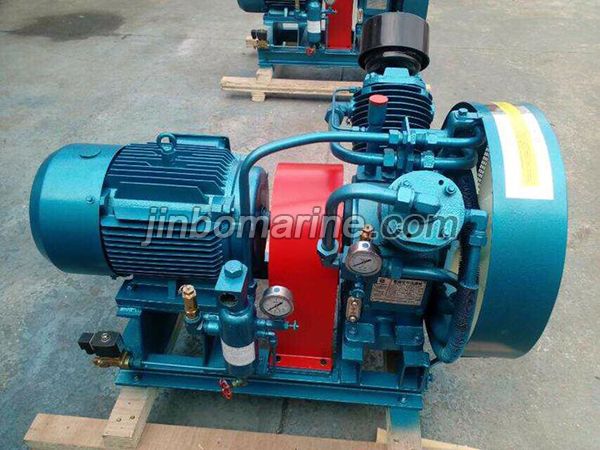 Marine Starting Air Compressor Diesel Unit CVF-43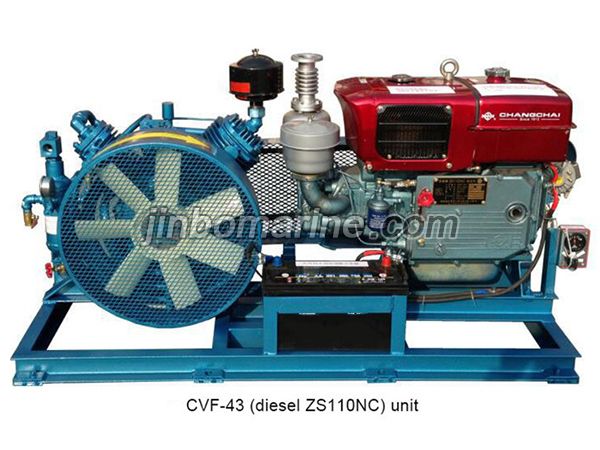 Automatic control
1.The machine set contain automatic control device, and establish to deal with contact, can show the movement signal, Show the motor Super burden signal.
2.Start/stop pressure controller: according to the pressure setting, the unit will stop at high pressure of 2.7~2.9 MPa and start at low pressure of 2.0~2.2 MPa.
3.Unload the way to divide into automatically or manually.
4.Air suction filter, Class I and II safety valves, Class A and B pressure gauges, intermediate cooler , common base, three phase asynchronous motor, solenoid valve, control box , and pressure controller.
5.Note: the control box and pressure controller are not mounted on the unit but at suitable positions on the ship cabin (as the control pressure air source for the pressure controller must be connected from the air bottle, it should be as near to the air bottle as possible).

Spare parts
List of spare parts as follows: the piston rings, valve sheet, asbestos pad, each one sets.
Quality control
1.Guarantee period: Under the premise of transport、maintenance and installed, in 12 months after the ship be delivered, If the machine appear some trouble because of the Quality.the manufacturer must supply the service for free.
2.When Out of Expect date,the manufacturer must supply the service and receive the necessary expenditure.
Specification
Model
Type
Displacement capacity
Rated pressure
Rotate speed
Motor power
Driving method
Overall size
m3/h
Mpa
r/min
KW
mm
CVF-43
Vertical type.
Air cooling.
Second stage compression.
Piston type.

30
3
1200
7.5
Belt type or Direct connection type.
1400x700x920
36
1500
11
44
1800
11
More way to contact us
Tel: 86-23-68428875,68428422,68838417
Fax: 86-4008266163-88928
Email: sales@jinbomarine.com