Type D17 Anchor Shackle with Oval Pin
Category:Shackle
Material:Grade R3/R3S/R4/R4S/R5
Delivery Time:30 days
Packing Details:Wooden Box
Fob Price:Get Latest Price Now
Place of Origin:China
Details
China Type D17 Anchor Shackle with Oval Pin:
Material : Alloy steel, Grade R3/R3S/R4/R4S/R5.
Finish : Painted.
Standards : ISO 1704.
Temperature range : -40°C up to +200°C,
Polar Rated Standard certification : Certificate of Conformity 3.1 material certificate EN 10204
Also to be used for mooring applications Non-standard sizes or custom products available on request.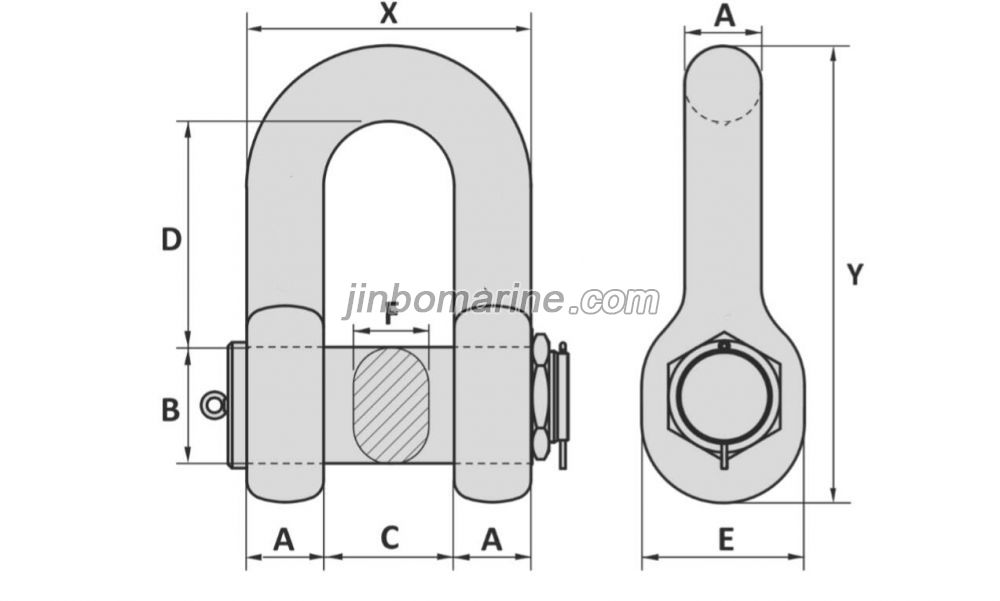 A = 1.4 x chain diameter
B = 1.8 x chain diameter
C = 2.4 x chain diameter
D = 4.6 x chain diameter
E = 3.1 x chain diameter
F = 1.4 x chain diameter
X = 5.2 x chain diameter
Y = 8.7 x chain diameter
More way to contact us
Tel: 86-23-68428875,68428422,68838417
Fax: 86-4008266163-88928
Email: sales@jinbomarine.com