CB436-2000 B Type Cleat Fairlead With Single Roller
Category:Warping Roller
Material:cast steel,cast iron
Standards:CB436-2000
Certificate:ABS , BV, CCS, mill certificate etc.
Fob Price:Get Latest Price Now
Place of Origin:China
Details
China CB436-2000 B Type Cleat Fairlead With Single Roller: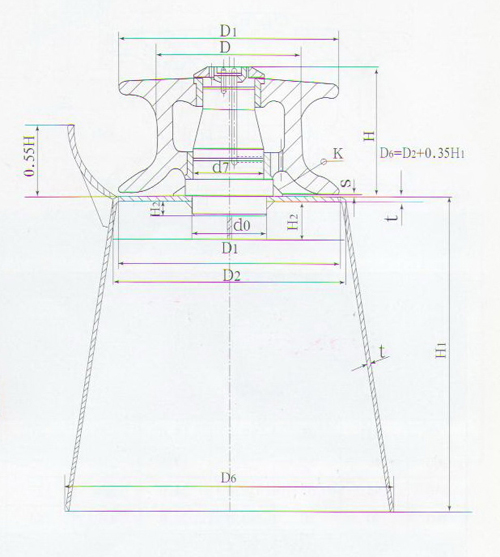 It is used for bollard cable leading of ships
Compact design,precision machined smooth surface,easily removable shafts,
Combination type including double warping roller with plate, three warping roller with plate and more.
Paint: Grey Epoxy Primer, for the middle paint and surface according to your requirement.
Delivery time:7-15 days after order be confirmed.
Machining facilities :CNC center, CNC lathes, ultrasonic wave cleaning etc
CB436-2000 B type Cleat fairleadwith single roller

Product
No.

Nominal

Steel rope GB1102 Breaking Load 1520N/mm2




Dimension

Roller weight KG

Base weight kg
H1=1000

Size(mm)

6*24

6*30

6*37

D0

D1

D2

D7

H

H1

H2

H3

S

t

K

CBRB-001

150

17

17.5

15

90

240

270

79

158




The base height is as per your request

40

75

5

12

9

24.8

129

CBRB-002

200

22.5

21.5

19.5

115

310

340

99

186

50

85

5

14

10

49.3

178

CBRB-003

250

24

26

24

135

380

410

119

230

60

100

6

14

10

92

207

CBRB-004

300

30

32.5

28

155

440

470

129

255

60

100

7

16

12

127

265

CBRB-005

350

37.5

39

34.5

175

500

530

149

271

65

100

7

18

13

168

332

CBRB-006

400

41

39

39

185

560

590

159

307

70

100

7

20

14

252.5

401

CBRB-007

450

44.5

-

43




210

630

670

179




316

80

120

7

20

14

310

452

CB436-2000 B type:Adopt GB T10105-88 marine fairlead roller
Supply scope:
DIN 81906-1999 Fairlead roller
NS2585 Type Marine warping roller----Also known as GB 10105-88 warping roller
JIS F2014-1987 fairlead roller
KOREAN WARPING ROLLER
CB58-83 fairlead roller
Cleat fairlead with single roller CB436-2000 type A
Cleat fairlead with single roller CB436-2000 type B
Double Warping Roller With Plate
DIN81907 1997 Fairleads roller
A type Fairlead Rollers
More way to contact us
Tel: 86-23-68428875,68428422,68838417
Fax: 86-4008266163-88928
Email: sales@jinbomarine.com