CB436-2000 A Type Cleat Fairlead With Single Roller
Category:Warping Roller
Material:cast steel,cast iron
Standards:CB436-2000
Certificate:BV , ABS , CCS, NK, LR, DNV & GL, mill certificate etc.
Delivery Time:About 15 days.
Fob Price:Get Latest Price Now
Place of Origin:China
Details
Product Description:
It is used for guiding ropes in ship mooring and will not breakdown.
Complete with a primer paint finish our Warping Roller (also know as Fairlead roller) are immediately ready for any vessel installation. Cast from the finest quality steel for added durability, our fairlead roller range utilises a combination of horizontal and vertical rollers to give you a comprehensive solution for your needs.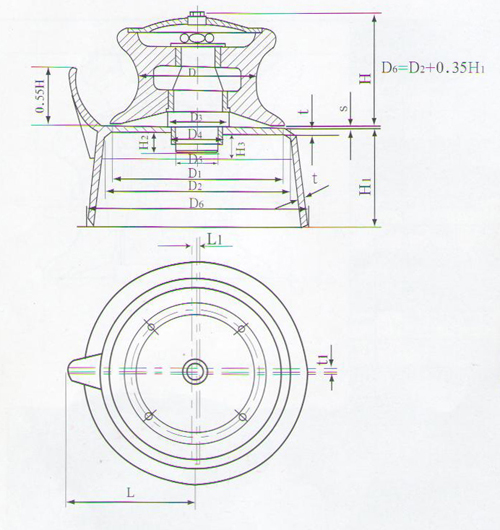 It is used for bollard cable leading of ships
good wear and corrosion resistance to grant a long service time
All products can be designed according to customers requirements.
The breaking load of tight wire is the highest.
Compact design,precision machined smooth surface,easily removable shafts,
Combination type including double warping roller with plate, three warping roller with plate and more.
Paint: Grey Epoxy Primer, for the middle paint and surface according to your requirement.
Delivery time:7-15 days after order be confirmed.
Machining facilities :CNC center, CNC lathes, ultrasonic wave cleaning etc
CB436-2000 A type Cleat fairlead with single roller

Product No.

Nominal

Steel rope GB1102 Breaking Load 1520N/mm2

Dimension

Roller
weight KG

Base weight kg H1=1000

Size(mm)

6*24

6*30

6*37

D1

D2

D3

D4

D5

L

H

H1

H2

H3

S

t

t1

Cast iron

Cast steel

CBRA-001

150

17

17.5

15

240

270

90

71

60

245

211

The base height is as per your request

40

75

3

12

8

32.1

33.8

129

CBRA-002

200

22.5

21.5

19.5

310

340

115

95

80

285

251

50

85

3

14

10

64.6

68

178

CBRA-003

250

24

26

24

380

410

140

107

90

323

298

60

100

4

14

10

108

114

207

CBRA-004

300

30

32.5

28

440

470

160

127

110

355

321

60

100

4

16

14

159

168

265

CBRA-005

350

37.5

39

34.5

500

530

180

144

125

390

346

65

100

4

18

14

235

248

332

CBRA-006

400

41

39

39

560

590

200

161

140

420

371

70

100

5

20

16

336

355

401

CB436-2000 Atype:Adopt CB 58-83 fairlead roller
More way to contact us
Tel: 86-23-68428875,68428422,68838417
Fax: 86-4008266163-88928
Email: sales@jinbomarine.com