DIN 81906-1999 Fairlead Roller
Details
China DIN 81906-1999 Fairlead Roller:
Warping roller(also known as fairlead roller) is used for rope or cable leading..It is made from cast iron or cast steel material,increased the durability,good wear and corrosion resistance to ensure a long service time.
1.Certificate: ABS, LR, BV, GL, DNV, CCS,mill certificate etc.
2.Finish: Epoxy finishing
3.Can be designed according to customers requirements.
Drawing: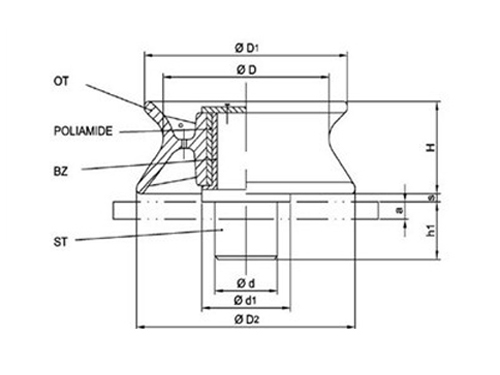 Specification:
DIN 81906-1999 Fairlead roller

Product No.

D

D1

D2

d

d1

H

h1

s

a

Fa

Weight

(mm)

(mm)

(mm)

(mm)

(mm)

(mm)

(mm)

(mm)

(mm)

(KN)

(KG)

D8R-001

160

195

210

60

85

80

50

2

12

10

14

D8R-002

200

245

265

70

102

102

50

3

12

20

20

D8R-003

250

300

330

85

126

126

50

3

15

32

33

D8R-004

320

390

420

106

160

160

50

3

15

50

72

D8R-005

400

490

530

125

208

208

60

3

18

80

140

D8R-006

450

560

610

160

256

256

85

3

18

125

240

D8R-007

500

620

640

190

278

278

100

5

20

200

320

D8R-008

560

740

780

230

348

348

150

5

20

320

580
More way to contact us
Tel: 86-23-68428875,68428422,68838417
Fax: 86-4008266163-88928
Email: sales@jinbomarine.com