CGT-165 Projection Magnetic Compass
Details
China CGT-165 Projection Magnetic Compass:
CGT-165ProjectionMagnetic Compassis a sort of vertical liquid magnetic compass with excellent performance and reliable working. It is designed and manufactured in accordance with the national standard GB/T 14108-93 (General Technical Terms of Marine Magnetic Compass Class A) and completely accord with the demand and standard of the relevant navigation equipment regulated by ISO449 and IMO. The product has the characteristics of high precision and steady performance and can be used for long time under inclement weather at ship sailing. It has the following characteristics.
1.It is the standardmagnetic compassas well as concurrently acting as steering magnetic compass and overcome the difficulties that the wheelhouse is lack of area for mounting and it is difficult correcting in the steel cabin . It is useful for the arrangement of console.
2.The projective tube is changed directly inserting in the bottom of the compass from the wheelhouse . The advantages of it are simple installation, convenient maintenance and may disassemble the clean imaging glass at any moment.
3.Projection lamp adopts 8W LED light source , its life is over 10 times than traditional projection lamp . The scale of the compass under projection is clear and visible, brightness equality and softness.
Components:
Magnetic compass:1pc
Projection tube:1pc The length of projection tube are five kinds from400mmto900mmand could be made by special length following customer's requirement.
Controlling box for light adjusting:1pc
Projection base(wooden anvil):1pc 410x410x100mm
Calibrating equipment(fitting case):1 set Main semicircle self heterodyne adjusting magnetic bar 12pcs
Quadrant self heterodyne adjusting pure iron sheet 11pcs
Inclining self heterodyne adjusting magnetic bar 3pcs
Secondary semicircle self heterodyne correcting flinder's iron bar 8pcs
Spare parts:Projection lamp device 1pc ground glass and reflector:1pc for each.
Main technical parameters:
| | |
| --- | --- |
| Dial diameter | 165mm |
| Dial graduation | 0°~360°1°for each grid |
| Using temperature | -25℃~+70℃ |
| Indicating deviation(H=35μT,T=20±3℃) | ≤0.5° |
| Half period(H=35μT,T=20±3℃) | ≥8.62S |
| Friction deviation(H=35μT,T=20±3℃) | 0.09° |
| Main semicircle self heterodyne correcting energy | 1°~45° |
| Secondary semicircle self heterodyne correcting energy | 1°~6°(Magnetic inclination Q=15°) |
| Quodrant self heterodyne correcting energy | 0.5°~10° |
| Inclining self heterodyne correcting energy | -75~+75μT |
| Lens barrel flexing range | ±50mm |
| Dial image expanding rate | ≈2 times(original dial graduation) |
| Lighting power supply | AC220V,DC24V |
| Outline Dimension | 750x490x1350mm(Excluding the length of lens barrel) |
| Diameter of mounting holes | Pitchrow 420 ApertureΦ14 |
| Weight | 69kg. |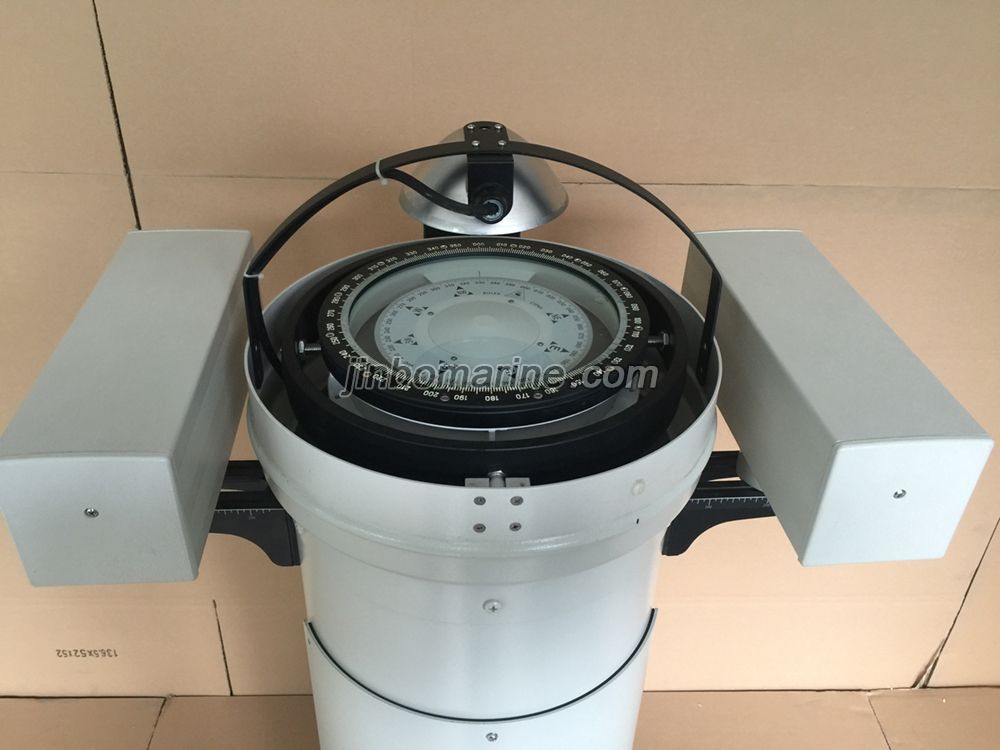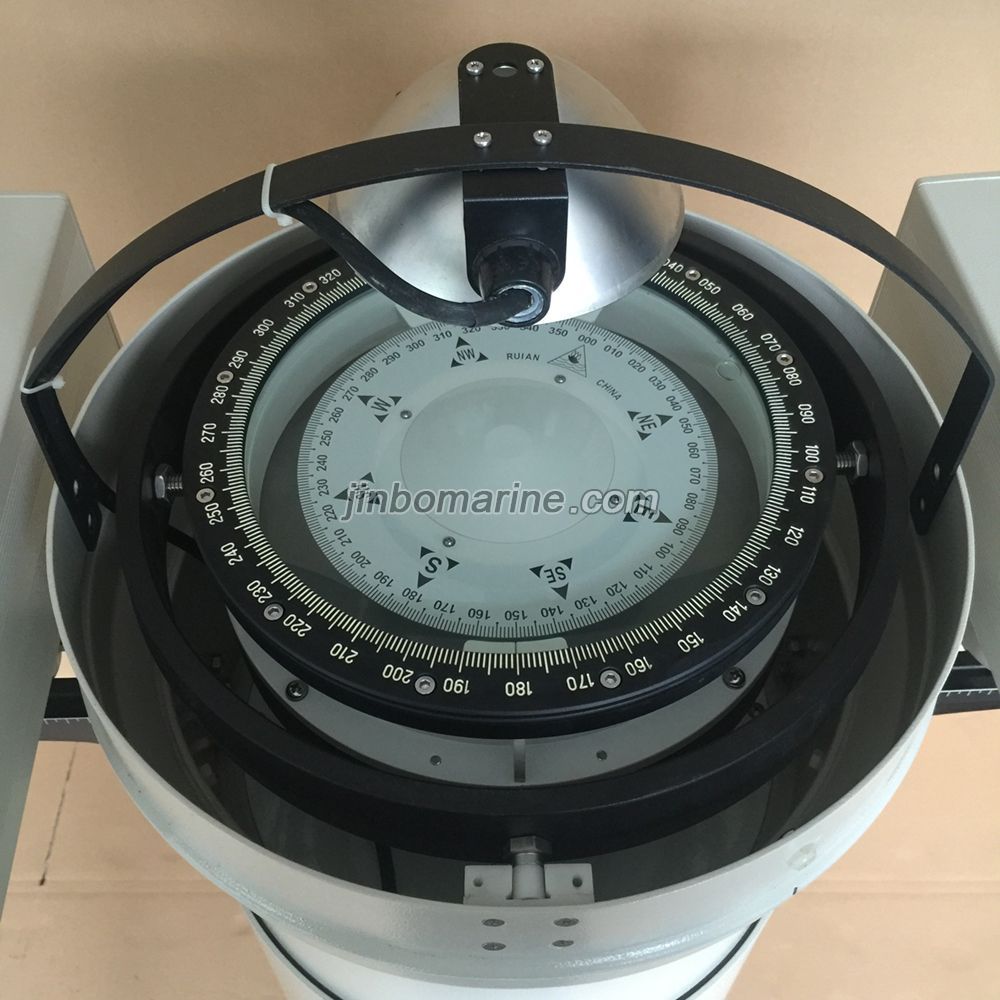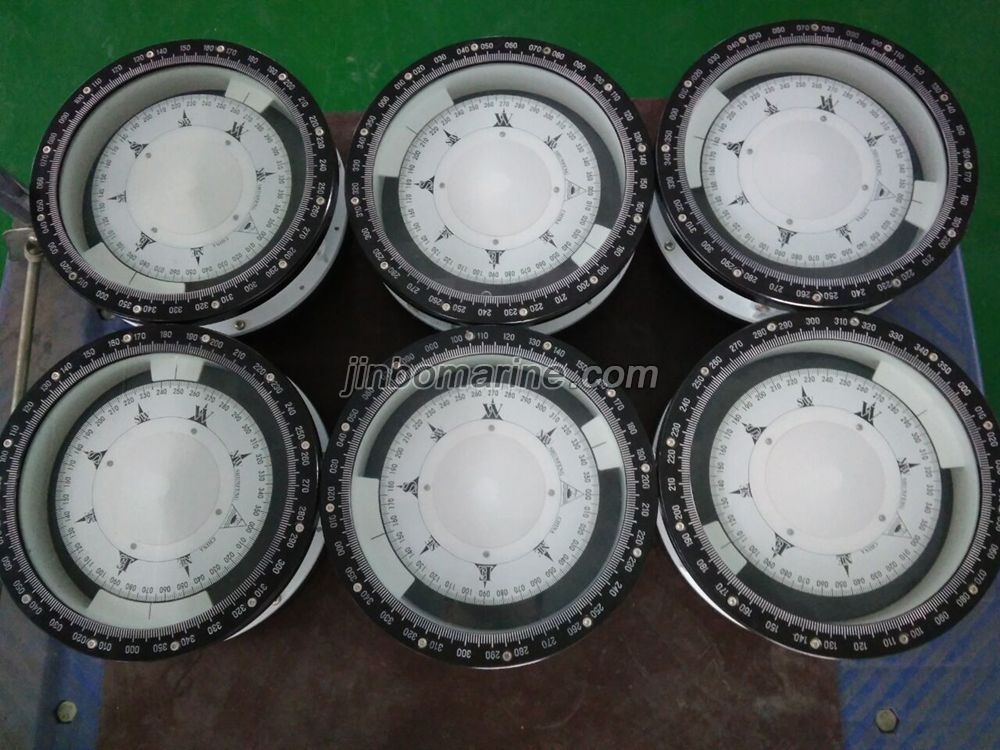 More way to contact us
Tel: 86-23-68428875,68428422,68838417
Fax: 86-4008266163-88928
Email: sales@jinbomarine.com