DSG102-S Hose Crimping Machine
Details
China DSG102-S Hose Crimping Machine:
DSG102-S hose crimping machine is applicable to thecrimpingprocessing for the burst resisting hose, fiber tube and
plastic pipe assembly used in the industry and agriculture and hydraulic transmission of engineering machinery. This machine has the following characteristics: small volume, light weight, having multifunction, rapid opening of die, being easy in operation, and convenient in maintenance.
Feature:
1.small dimension and small weight
2. multifunction,rapid opening of die
3.easy to operate and repair.
Main Technical Characteristics:
Inside Diameter ofCrimpedRubber Hose:φ6 - 102 mm
Precision of Staff Gauge:0.02 mm
Power of Electric Motor:5.5KW
Maximum Crimping Force:1070 T
Rotating Speed:1440 r/min
Output Volume of Oil Pump:36 L/min
Capacity Oil Tank:200 L
Overall Dimension:1050×700×1550 (mm)
Weight:1500 Kg
Diagram of Structure: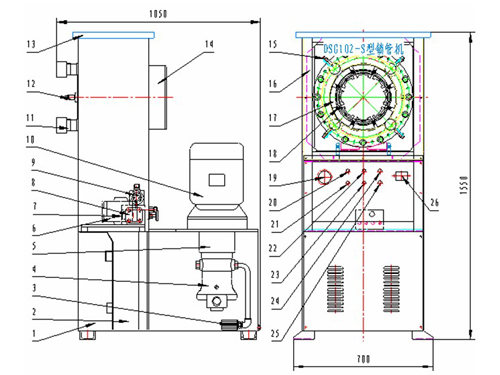 1. Electric Cabinet 2. Oil Tank 3. Filter Core 4. Oil Pump 5. Joining Disc 6. Liquid Control Valve 7. Oil Channel Block 8. Pressure Regulator Valve 9. Solenoid operated directional 10. Electric Motor 11. Die-Opening Cylinder 12. Staff Gauge 13. Top Cover of Frame 14. Piston 15. Joint of Die-Opening Cylinder 16. Frame 17. Die Holder 18. Spring 19. Pressure Gauge 20. Die-Opening Button 21. Die-Opening Button 22. Start-up Push Button of Oil Pump 23. Close-up Push Button of Oil Pump 24. Indicator Lamp of Power Supply 25. Manual/Automatic Knob 26. Power Supply Switch
Name:
Hose crimping machine,hose crimper,Pipe locking machine,Locking pipe machine,tube locking machine, tube crimping machine,tube crimper,pipe crimping machine,pipe crimper.
Usage
Crimping hose
Popular type:
DX68 Hydraulic high pressure hose crimping machine 6-51mm
DSG51A Multi-function pipe crimping machine 6-51mm
DSG51B Multi-function pipe crimper 6-51mm
DSG75 High pressure hose crimper 6-75mm
DSG150 High pressure hose crimping machine 6-150mm
DSG102S hose crimping machine 6-102mm
DSG250A Locking Pipe Machine 6-51mm
DSG250B tube crimping Machine 6-51mm
DSG250C Pipe Locking Machine 6-51mm
JK400 tube crimper 6-64mm
JKS200 Manual type hose crimping machine 6-32mm
SK100 Numeric control locking pipe machine 4-89mm
More way to contact us
Tel: 86-23-68428875,68428422,68838417
Fax: 86-4008266163-88928
Email: sales@jinbomarine.com