DX68 Hydraulic High Pressure Hose Crimping Machine
Details
China DX68 Hydraulic High Pressure Hose Crimping Machine:
DX68 Hydraulic high pressure hose crimping machine is mainly used for buckling processing for high pressure rubber pipe assembly in the mechanical engineering. It can also be used for buckling the two-way bends,especially large bends and irregular shape bends.
This machine features small and portable appearance, big force, low noise and easy to operate. The buckling amount can be precise adjusted through a scale. It makes the mould base division to be more even through the double inclined plane eight-flap mould seat equipped with a high accuracy guiding device.
Main Technical Feature:
1.Buckling range: Φ6—Φ51mm
2.Max. buckling force: 400T
3.Scale accuracy:0.02mm
4.Rated pressure: 31.5 MPa
5.Oil pump displacement: 5ml/rad (380V), 2.5ml/rad(220V)
6.Overall dimensions: 670(L)×490(W)×780(H)mm
7.Including 10 die sets,the length of die set:80 mm
Structure: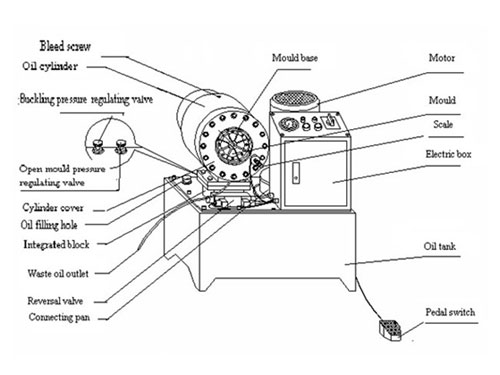 Name:
Hose crimping machine,hose crimper,Pipe locking machine,Locking pipe machine,tube locking machine, tube
crimping machine,tube crimper,pipe crimping machine,pipe crimper.
Usage
Crimping hose
Popular type:
DX68 Hydraulic high pressure hose crimping machine 6-51mm
DSG51A Multi-function pipe crimping machine 6-51mm
DSG51B Multi-function pipe crimper 6-51mm
DSG75 High pressure hose crimper6-75mm
DSG150 High pressure hose crimping machine 6-150mm
DSG102S hose crimping machine 6-102mm
DSG250A Locking Pipe Machine 6-51mm
DSG250B tube crimping Machine 6-51mm
DSG250C Pipe Locking Machine 6-51mm
JK400 tube crimper 6-64mm
JKS200 Manual type hose crimping machine 6-32mm
SK100 Numeric control locking pipe machine 4-89mm
More way to contact us
Tel: 86-23-68428875,68428422,68838417
Fax: 86-4008266163-88928
Email: sales@jinbomarine.com