CBL Marine Explosion Proof Centrifugal Fan Type II
Category:Marine Fan/Blower
Material:Steel
Standards:GB11799, GB3836-83
Certificate:CCS, BV, ABS, GL, LR, DNV, NK,RINA, KR,IRS
Fob Price:Get Latest Price Now
Place of Origin:China
Details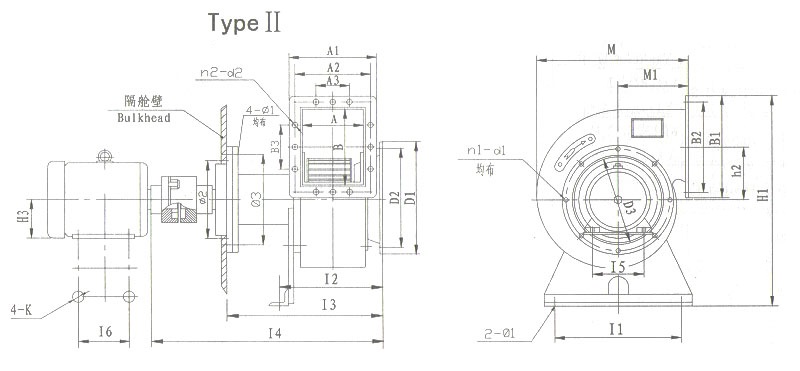 CBL Marine Explosion Proof Centrifugal Fan Type II
General:
CBL series marine explosion proof centrifugal fan is designed and manufactured according to GB11799-89 (marine explosion proof centrifugal fan), and genearal description and explosion proof electrical equipment "d" of GB3836-83 (electrical apparatus for explosive atomsphere) and Regulations for the Contrustion and classification of sea-going steel shipes.
Application:
It can be used to delivery the gas mixtures or vapour containing combustibles and explosives, ordinary air, sea air containing salt fog, air containing oil fog and other corrupt air supply or extraciton.
This kind of explosion proof fan is suitable to pump out gas mixtures or vapour containing combustibles and explosives in oil tank,cargo tank, pump room,battery cabin,ammunition cabin,hangar,paint house, etc. It also can be used for ventilation of other compartments of shipping and corresponding place on the land.
The fan can be with 380V/220V/440V/415V, 50Hz/60Hz.
Structural Types:
Type I- Direct Coupling type. The vane wheel is mounted directly to motor shaft, and the housing is fixed on the flange of the explosion proof motor.
Type II-Separate cabin type. It is a separate structure, the fan and the motor are put into different cabins, with a driving device, a pairs of flexible coupling, and the driving device consists of bearings, bearing box, shaft brass rings, stuffing, it can be refueled and measure the temperature. One side is fixed on the fan, another side is mounted on the bulkhead.
The fan may be made into a horizontal or vertical, single-stage, single-suction, airtight structure.
Features:
1.Explosion proof, safe, reliable in operation.
2. Small size, light weight, low noise.
3.Good anticorrosive.
4. Strongly capable of resisting vacillation,vibration and shocking.
Main Parameter:
Model
Folw rate (m3/h)
Total pressure (Pa)
Static pressure (Pa)
speed(r/min)
Motor
Weight(kgs)
Freq (Hz)
Power (kw)
Type
TypeⅠ
TypeⅡ
TypeⅠ
TypeⅡ
I
Ⅱ
CBL-15
500
550
490
2920
50
0.75
1.5
YB801-2-H
YB90S-2-H/Y90S-2-H
40
61
800
540
390
600
780
590
3500
60
960
645
470
CBL-16
800
600
490
2920
50
0.75
1.5
YB801-2-H
YB90S-2-H/Y90S-2-H
41
62
1200
590
340
960
860
705
3500
60
1400
840
490
CBL-17
800
695
590
2920
50
0.75
1.5
YB801-2-H
YB90S-2-H/Y90S-2-H
42
63
1200
685
440
960
1000
840
3500
60
1400
980
635
CBL-18
1200
810
635
2920
50
1.1
1.5
YB802-2-H
YB90S-2-H/Y90S-2-H
43
64
1500
810
540
1400
1165
910
3500
60
1800
1165
775
CBL-19
1500
900
735
2920
50
1.5
1.5
YB90S-2-H
YB90S-2-H/Y90S-2-H
44
71
2000
880
590
1800
1295
1060
3500
60
2400
1265
840
CBL-20
800
245
195
1460
50
0.75
1.1
YB802-4-H
YB90S-4-H/Y90S-4-H
45
67
960
350
285
1750
60
CBL-20
1500
1050
880
2920
50
2.2
3
YB90L-2-H
YB100L-2-H/Y100L-2-H
55
80
2000
1030
735
1800
1510
1265
3500
60
2400
1480
1060
CBL-21
2000
1175
930
2920
50
2.2
3
YB90L-2-H
YB100L-2-H/Y100L-2-H
58
79
2500
1165
785
2400
1685
1330
3500
60
3000
1675
1125
CBL-22
2500
1275
980
2920
50
2.2
4
YB90L-2-H
YB112M-2-H/Y112M-2-H
60
86
3000
1255
830
3000
1830
1410
3500
60
3
YB100L-2-H
63
3600
1805
1195
CBL-23
2500
1400
1175
2920
50
2.2
4
YB90L-2-H
YB112M-2-H/Y112M-2-H
62
88
3000
1410
1080
3000
2010
1685
3500
60
4
YB112M-2-H
65
3600
2030
1550
CBL-24
1500
410
340
1460
50
0.75
1.1
YB802-4-H
YB90S-4-H/Y90S-4-H
48
75
2000
360
245
1800
590
490
1750
60
2400
520
350
CBL-24
3000
1653
1370
2920
50
3
4
YB100L-2-H
YB112M-2-H/Y112M-2-H
69
102
4000
1560
1080
3600
23502
1970
3500
60
5.5
5.5
YB132S1-2-H
YB132S1-2-H/Y132S1-2-H
104
127
4800
2235
1550
CBL-25
2000
430
340
1460
50
1.1
1.1
YB90S-4-H
YB90S-4-H/Y90S-4-H
59
79
2500
430
295
2400
615
490
1750
60
3000
615
420
CBL-25
4000
1910
1570
2920
50
4
4
YB112M-2-H
YB112M-2-H/Y112M-2-H
79
104
4800
2745
2255
3500
60
7.5
7.5
YB132S1-2-H
YB132S1-2-H/Y132S1-2-H
110
143
CBL-27
2500
510
390
1460
50
1.5
1.5
YB90L-4-H
YB90L-4-H/Y90L-4-H
65
85
3000
510
340
3000
735
560
1750
60
3600
735
490
CBL-29
2500
625
540
1460
50
1.5
1.5
YB90L-4-H
YB90L-4-H/Y90L-4-H
68
88
3000
570
440
3000
900
775
1750
60
3600
810
635
CBL-30
3000
645
540
1460
50
1.5
2.2
YB90L-4-H
YB100L1-4-H/Y100 L1-4-H
70
101
4000
635
440
3600
930
775
1750
60
2.2
YB100L1-4-H
78
4800
910
635
CBL-32
4000
745
590
1460
50
2.2
3
YB100L1-4-H
YB100L2-4-H/Y100L2-4-H
81
106
5000
735
490
4800
1070
840
1750
60
3
YB100L2-4-H
83
6000
1060
705
CBL-33
4000
820
685
1460
50
2.2
3
YB100L1-4-H
YB100L2-4-H/Y100L2-4-H
84
109
5000
795
590
4800
1185
990
1750
60
3
YB100L2-4-H
86
6000
1135
840
CBL-34
5000
860
685
1460
50
3
4
YB100L2-4-H
YB112M-4-H/Y112M-4-H
87
123
6000
840
590
6000
1235
990
1750
60
4
YB112M-4-H
100
7200
1215
840
CBL36
5000
970
830
1460
50
4
4
YB112M-4-H
YB112M-4-H/Y112M-4-H
83
106
6000
930
735
7200
870
590
6000
1390
1195
1750
60
5.5
5.5
YB132S-4-H
YB112M-4-H
105
138
7200
1330
1060
Y112M-4-H
8600
1255
840
CBL-37
6000
1010
830
1460
50
4
4
YB112M-4-H
YB112M-4-H/Y112M-4-H
108
131
7200
990
735
7200
1450
1195
1750
60
5.5
5.5
YB132S-4-H
YB132S-4-H/Y132S-4-H
130
163
8600
1420
1060
CBL-39
6000
490
340
970
50
2.2
2.2
YB112M-6-H
YB112M-6-H/Y112M-6-H
111
134
7200
705
490
1160
60
CBL-39
7200
1185
980
1460
50
5.5
7.5
YB132S-4-H
YB132M-4-H/Y132M-4-H
138
186
9000
1090
785
8600
1705
1410
1750
60
7.5
YB132M-4-H
153
10800
1560
1125
CBL-40
5000
1215
1080
1460
50
4
4
YB112M-4-H
YB112M-4-H/Y112M-4-H
112
135
6000
1175
980
6000
1745
1550
1750
60
7.5
7.5
YB132M-4-H
YB132M-4-H/Y132M-4-H
149
182
7200
1685
1410
CBL-42
6000
590
490
970
50
2.2
3
YB112M-6-H
YB132S-6-H/Y132S-6-H
123
179
7200
540
390
7200
840
705
1160
60
3
YB132S-6-H
146
8600
775
560
CBL-42
9000
1305
1080
1460
50
7.5
7.5
YB132M-4-H
YB132M-4-H
165
198
12000
1285
880
Y132M-4-H
10800
1870
1550
1750
60
11
11
YB160M-4-H
YB160M-4-H/Y160M-4-H
218
263
14000
1840
1265
CBL-44
7200
635
490
970
50
3
3
YB132S-6-H
YB132M1-6-H/Y132M1-6-H
150
193
9000
600
390
8600
910
705
1160
60
4
YB132M1-6-H
160
10800
860
560
CBL-44
9000
1480
1275
1460
50
11
11
YB160M-4-H
YB160M-4-H/Y160M-4-H
222
267
12000
1450
980
10800
2130
1830
1750
60
15
15
YB160L-4-H
YB160L-4-H/Y160L-4-H
240
285
14000
2090
1410
CBL-46
9000
675
490
970
50
4
4
YB132M1-6-H
YB132M1-6-H/Y132M1-6-H
166
199
10800
970
340
1160
60
5.5
5.5
YB132M2-6-H
YB132M2-6-H/Y132M2-6-H
181
214
CBL-46
12000
1610
1275
1460
50
15
15
YB160L-4-H
YB160L-4-H/Y160L-4-H
228
273
15000
1500
980
14000
2300
1830
1750
60
18.5
18.5
YB180M-4-H
YB180M-4-H/Y180M-4-H
300
245
18000
2155
1410
CBL-48
9000
735
590
970
50
4
4
YB132M1-6-H
YB132M1-6-H
169
202
12000
655
390
Y132M1-6-H
10800
1060
840
1160
60
5.5
5.5
YB132M2-6-H
YB132M2-6-H/Y132M2-6-H
185
218
14000
940
560
CBL-48
12000
1735
1470
1460
50
15
15
YB160L-4-H
YB160L-4-H/Y160L-4-H
249
294
15000
1695
1275
14000
2490
2120
1750
60
22
22
YB180L-4-H
YB180L-4-H/Y180L-4-H
353
398
18000
2440
1830
CBL-50
12000
775
540
970
50
5.5
5.5
YB132M2-6-H
YB132M2-6-H/Y132M2-6-H
190
223
14000
1110
775
1160
60
7.5
7.5
YB160M-6-H
YB160M-6-H/Y160M-6-H
230
275
CBL-50
15000
1830
1470
1460
50
18.5
18.5
YB180M-4-H
YB180M-4-H/Y180M-4-H
255
309
18000
1795
1275
18000
2633
2120
1750
60
22
22
YB180L-4-H
YB180L-4-H/Y180L-4-H
359
404
21000
2580
1830
CBL-52
12000
930
735
970
50
7.5
7.5
YB160M-6-H
YB160M-6-H/Y160M-6-H
241
286
15000
850
540
14000
1330
1060
1160
60
11
11
YB160L-6-H
YB160L-6-H/Y160L-6-H
265
310
18000
1225
775
CBL-54
15000
940
685
970
50
7.5
7.5
YB160M-6-H
YB160M-6-H/Y160M-6-H
252
297
18000
1350
990
1160
60
11
11
YB160L-6-H
YB160L-6-H/Y160L-6-H
276
321
CBL-56
15000
1060
830
970
50
11
11
YB160L-6-H
YB160L-6-H/Y160L-6-H
287
312
18000
1010
685
18000
1520
1195
1160
60
15
15
YB180L-6-H
YB180L-6-H/YB180L-6-H
382
427
21000
1440
980
CBL-58
18000
1155
880
970
50
15
15
YB180L-6-H
YB180L-6-H/Y180L-6-H
393
438
21000
1655
1265
1160
60
18.5
18.5
YB200L1-6-H
YB200L1-6-H/Y200L1-6-H
398
455
More way to contact us
Tel: 86-23-68428875,68428422,68838417
Fax: 86-4008266163-88928
Email: sales@jinbomarine.com