CZ Marine Axial Fan/Blower
Category:Marine Fan/Blower
Material:Steel, Aluminum
Standards:GB11864
Certificate:CCS, BV, ABS, GL, LR, DNV, NK,RINA, KR,IRS
Fob Price:Get Latest Price Now
Place of Origin:China
Details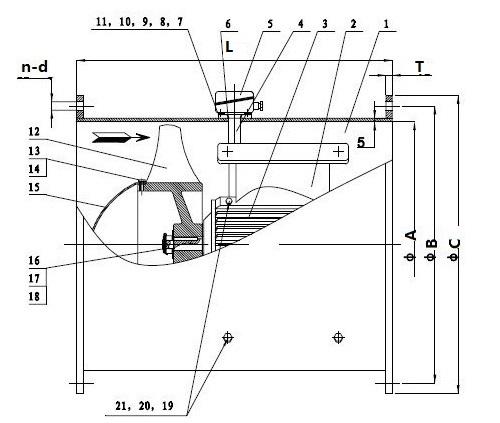 General:
CZ series marine axial fan (also called as JCZ marine axial fan) is capable of blowing air, ocean air with salt vapor, and corrosive air which contains a small quantity of oil vapor. They are suitable for the ventilation of the cabin air ventilation as well as boiler ventilation, also applicable for other suitable places. The fan is designed and manufactured according to GB11864-1990 Marine Axial Fan and the current Ship Building Norms.
Features:
1.The casing can be opened.
2. Reverse Rotation is allowed
3. Good anti-corrosiveness
4.Strong resistance against swing, vibration & impact.
Structure:
The fan is manufactured with a built-in motor structure. The impeller is directly mounted on the motor shaft. The impeller is made of anti-corrosive aluminum alloy while the casing is welded by common steel. The casing can either be made into an integral one or an open type and the motor is fixed on the movable half of the casing so as to bring convenience for on-site repair and the replacement of its spare parts. The fan can be matched with marine AC motor of 230V, 440V, 380v, 415v, 480v. The frequency can be 50Hz or 60Hz
Main Parts:
1-Casing: Carbon Steel
2-Angle strut
3-Motor
5-Terminal Box
12-Impeller: Aluminum Alloy
15-Guide Cowl: Carbon Steel
Main Parameter:
Model
Folw rate (m3/h)
Total pressure(Pa)
Static pressure(Pa)
speed (r/min)
Motor
Weight(kgs)
Freq Hz
Power kw
CZ-20
600
110
90
2920
50
0.25
18
800
85
55
800
160
130
3500
60
0.55
20
1000
110
80
CZ-25
800
160
140
2920
50
26
1200
140
110
1400
120
90
1000
220
200
3500
60
1500
200
160
1700
180
130
CZ-30A
1200
300
245
2920
50
0.75
35
1800
195
145
1400
440
350
3500
60
2100
280
215
CZ-30B
1000
295
235
2920
50
1200
235
145
1200
420
330
3500
60
1400
330
215
CZ-35A
3000
440
390
2920
50
1.1
40
4500
250
150
3600
635
555
3500
60
5400
350
215
CZ-35B
1800
410
360
2920
50
3000
260
195
1200
160
150
1750
60
0.55
4500
290
200
3500
50
1.1
CZ-40A
4500
585
520
2920
60
1.5
65
6000
500
390
3000
180
150
1750
50
0.55
5400
840
745
3500
2.2
7200
715
560
CZ-40B
3000
520
490
2920
50
1.5
4500
390
330
3600
745
705
3500
60
2.2
5400
560
480
CZ-50A
6000
215
175
1460
50
1.1
78
7200
310
255
1750
60
1.5
CZ-50B
6000
685
625
2920
50
3
86
9000
585
490
7200
990
900
3500
60
4
90
10000
840
705
CZ-50C
9000
785
685
2920
50
4
100
12000
615
490
10000
1125
990
3500
60
5.5
130
14000
890
705
CZ-60
9000
295
235
1460
50
1.5
100
12000
235
145
10000
420
330
1750
60
2.2
14000
330
215
CZ-70A
12000
450
390
1460
50
3
145
15000
370
295
18000
290
200
14000
645
560
1750
60
5.5
165
18000
540
420
21000
450
295
CZ-70B
9000
420
390
1460
50
2.2
170
12000
295
245
15000
225
145
10000
605
560
1750
60
3
180
14000
420
350
18000
325
215
CZ-75
15000
540
490
1460
50
4
165
18000
470
390
21000
340
235
24000
295
155
18000
775
705
1750
60
7.5
190
21000
675
560
25000
490
330
28000
420
225
CZ-80A
21000
665
585
1460
50
7.5
210
24000
595
490
27000
530
390
30000
390
225
25000
960
840
1750
60
11
258
28000
860
705
32000
765
560
36000
560
320
CZ-80B
18000
550
490
1460
50
5.5
200
21000
470
390
24000
400
295
27000
300
165
21000
785
705
1750
60
7.5
235
25000
675
560
28000
575
420
32000
440
235
CZ-90A
24000
705
635
1460
50
7.5
260
27000
570
490
30000
490
390
33000
350
225
28000
1010
910
1750
60
11
310
32000
815
705
36000
705
560
40000
510
325
CZ-90B
27000
765
685
1460
50
11
300
30000
685
585
33000
615
490
36000
540
390
32000
1100
900
1750
60
15
310
36000
990
840
40000
890
705
48000
775
560
CZ-90C
30000
880
785
1460
50
15
331
33000
815
685
36000
685
540
36000
1265
1125
1750
60
18.5
385
39000
1165
980
43000
980
775
CZ-100A
42000
725
585
1460
50
15
335
48000
665
490
54000
605
390
50000
1040
840
1750
60
22
444
57000
960
705
60000
870
560
CZ-100B
36000
880
785
1460
50
15
340
39000
735
635
43000
1265
1125
1750
60
22
444
46000
1060
910
CZ-100C
39000
585
490
1460
50
11
322
42000
530
390
48000
470
295
46000
840
705
1750
60
15
340
50000
765
560
57000
675
420
CZ-100D
36000
340
245
970
50
7.5
322
39000
295
195
43000
490
350
1160
60
11
340
46000
420
285
JCZ-110A
42000
580
490
970
50
15
540
48000
510
390
54000
470
315
60000
390
215
50000
830
705
1160
60
18.5
545
57000
735
560
65000
675
450
72000
560
315
JCZ-110B
42000
340
235
970
50
7.5
321
48000
295
145
50000
490
330
1160
60
11
445
57000
420
205
CZ-110C
42000
870
785
1460
50
18.5
500
48000
805
685
54000
735
585
50000
1255
1125
1750
60
30
580
57000
1155
990
65000
1060
840
CZ-120A
60000
420
295
970
50
15
660
72000
340
155
72000
595
420
1160
60
18.5
665
86000
490
225
CZ-120B
60000
615
520
970
50
18.5
665
72000
575
390
84000
490
245
72000
890
745
1160
60
30
805
86000
830
560
100000
705
350
CZ-140A
72000
685
585
970
50
22
895
84000
585
490
96000
490
340
86000
980
840
1160
60
30
1013
100000
840
705
115000
705
490
CZ-140B
96000
490
340
970
50
22
895
115000
390
245
115000
705
490
1160
60
30
1013
138000
560
350
More way to contact us
Tel: 86-23-68428875,68428422,68838417
Fax: 86-4008266163-88928
Email: sales@jinbomarine.com