CLZ Marine Vertical Axial Fan
Details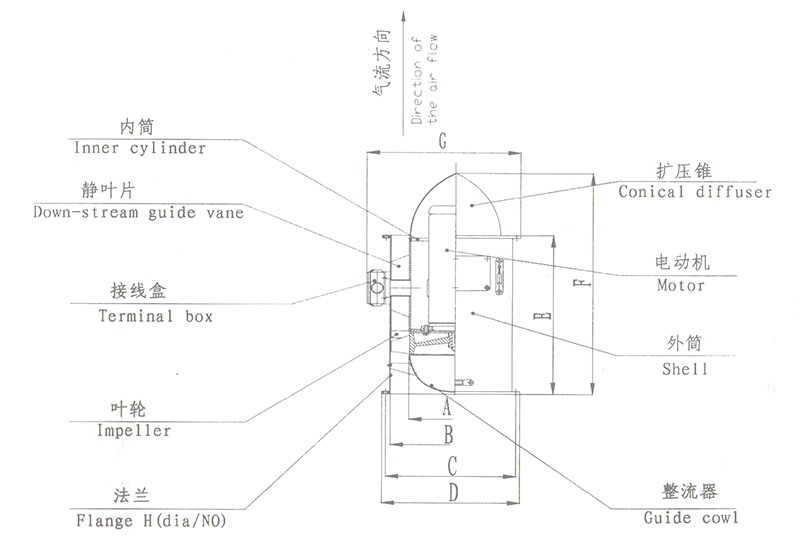 Usage:
CLZ marine axial fan is designed primarily for ventilation of cabins, air supply or air exhaust. The delivered air can contain the salt fog or acid vapor from the battery. The temperature of the air can not exceed 50 centigrade degree.
Construction:
CLZ marine axial fan consists of the impeller, casing, motor, guide cowl, rectifier, etc.
1. Casing is made of steel plate with enough thickness, composed of an inner cylinder, a shell and a down-stream guide vane. The shell is with flanges on the inlet and outlet to connect with the ducts. The inner cylinder and the shell are connected with the down-stream guide vane that is used to guide the air flow.
2.Motor is the special motor manufactured by the professional motor factory. It is totally enclosed, naturally cooled and capable of resisting the salty fog, shocking and vibration. The motor is installed inside of the inner cylinder, the electric motor type are ZZT-H marine electric motor (220V) or Y-H marine electric motor (220V/380V)
3.Impeller is made of anticorrosive casting aluminum alloy,being carefully balanced and mounted directly on the motor shaft extension.
4.The guide cowl is installed on the inlet side, the rectifier is installed on the outlet side. So that the air flow vortex is reduced ,and the fan efficiency is increased. The material of GRP.
5.The fan is painted by primer painting and the marine painting.
Main Parameter:

No
Type Form
Capacity (m3/h)
Total Pressure (Pa)
Speed (r/min)
shaft power(kw)
Motor
weight (kgs)
Type
kw
1
CLZ1-Z/CLZ1-J
1600
200
2900
0.142
ZZT2/30-H
0.2
45
AsH102T2P
0.25
26
2
CLZ2-Z/CLZ2-J
1600
350
2900
0.219
ZZT4/30-H
0.4
52
A3H-6322T2
0.55
32
3
CLZ3-Z/CLZ3-J
2500
300
2900
0.292
ZZT4/30-H
0.4
58
A3H-6322T2
0.55
37
4
CLZ4-Z/CLZ4-J
2500
500
2900
0.512
ZZT8/30-H
0.8
78
Y80L1-2-H
0.75
51
5
CLZ5-Z/CLZ5-J
4000
400
2900
0.63
ZZT8/30-H
0.8
83
Y80L1-2-H
0.75
53
6
CLZ6-Z/CLZ6-J
4000
700
2900
1.12
ZZT15/30-H
1.5
144
Y90S-2-H
1.5
77
7
CLZ7-Z/CLZ7-J
6000
750
2900
1.53
ZZT22/30-H
2.2
88
Y90L-2-H
2.2
84
8
CLZ8-Z/CLZ8-J
9000
800
2900
2.6
ZZT30/15-H
3
182
Y100L-2-H
3
109
9
CLZ9-Z/CLZ9-J
12000
500
1450
2.1
ZZT30/15-H
3
312
Y100L2-4-H
3
170
10
CLZ10-Z/CLZ10-J
12000
900
1450
3.8
ZZT55/15-H
5.5
474
Y132S-4-H
5.5
318
11
CLZ11-Z/CLZ11-J
16000
500
1450
3.3
ZZT40/15-H
4
358
Y112M-4-H
4
190
12
CLZ12-Z/CLZ12-J
16000
1100
1450
6
ZZT75/15-H
7.5
524
Y132M-4-H
7.5
348
13
CLZ13-Z/CLZ13-J
25000
600
1450
5.2
ZZT75/15-H
7.5
384
Y132M-4-H
7.5
244
14
CLZ14-Z/CLZ14-J
25000
1100
1450
10.2
ZZT130/15-H
13
700
Y160L-4-H
15
459
More way to contact us
Tel: 86-23-68428875,68428422,68838417
Fax: 86-4008266163-88928
Email: sales@jinbomarine.com