CGDL Marine High Efficiency Low Noise Centrifugal Fan
Details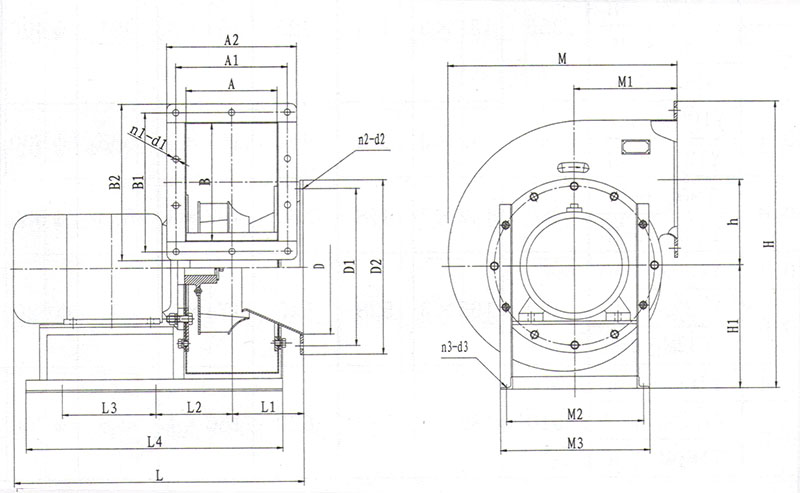 General:
CGDL series marine or navy high-efficiency, low-noise centrifugal fan is with new type, energy saving, low noise.By the special design and process, the fan is characterized with high efficiency, low noise, no overload, stable running and meeting the marine conditions etc. They are suitable for the air ventilation of cabins, also applicable in other places that suit.
Features:
The fan is adopted with aerofoil blades & inlet that are designed specially.The casing dimension and line are designed according to the characteristic speeds.The impellers are processed specially so that the air flows perfectly and the fan has the advantage of high efficiency and low noise. When the power gets to the large flow area, the flow gets down oppositely. Therefore, the motor can not be damaged due to the overload.
The special marine conditions have been considered fully when design and manufacturing, the impellers are made of casting aluminum, and strictly adjusted by dynamic balance, tested by the over speed. So the fan has the features of good corrosive resistance,swing resistance, shock resistance, vibration resistance, stable running, safety & reliability, etc.
Structure:
The fan are in horizontal type with direct coupling for the motor. However, it can also be constructed with a vertical type according to the actual situation.
The impellers are made by aluminum alloy, the blades are like aerofoil.They are adjusted strictly by dynamic balance.So that they have good air dynamic performance.The casing and the inlet are made by common steel and adopted with corrosion prevention of galvanization. When the machine number is equal to or more than 40, the fan is with framde.
The outlet direction of No.40-80 of the fan ranges between 0 to 225.
Specification:
Model No
Flow Rate
Total Pressure
Static Pressure
Speed
Noise
Motor
m3/h
Pa
Pa
r/min
Db(A)
Freq(Hz)
Power(KW)
Type
CGDL-20-2
400
570
550
2920
63
50
0.37
Y711-2-H
600
500
450
62
800
380
295
63
600
790
735
3500
67
60
800
680
590
67
1000
440
390
67
CGDL-25-2
800
790
745
2920
68
50
0.55
Y712-2-H
1100
700
630
67
1500
540
410
68
1000
1140
1060
3500
72
60
1400
990
880
72
1800
775
590
73
CGDL-28-2
1000
970
940
2920
71
50
0.75
Y801-2-H
1600
860
790
71
2200
650
500
72
CGDL-32-2
1600
1320
1280
2920
75
50
1.1
Y802-2-H
2200
1220
1130
75
3000
940
790
76
CGDL-32-4
900
330
310
1460
62
50
0.55
Y801-4-H
1200
290
260
62
1500
235
195
63
1000
470
450
1750
65
60
1400
420
390
65
1800
340
280
65
CGDL-36-2
2400
1690
1620
2920
64
50
2.2
Y90L-2-H
3300
1550
1430
64
4200
1320
1130
65
CGDL-36-4
1400
330
390
1460
69
50
0.55
Y801-4-H
1800
380
350
68
2200
300
245
69
1400
610
590
1750
83
60
1900
580
530
83
2500
490
420
84
CGDL-40-2
4000
2160
2040
2920
83
50
4
Y112M-2-H
5500
1860
1640
83
7000
1420
1060
84
CGDL-40-4
2000
530
500
1460
68
50
0.75
Y802-4-H
2800
470
410
68
3500
370
280
69
2400
760
725
1750
72
60
1.1
Y90S-4-H
3200
700
620
72
4200
540
410
73
CGDL-45-2
5000
2960
2840
2920
88
50
7.5
Y132S-2-H
7000
2580
2350
87
9000
1940
1570
88
CGDL-45-4
2400
755
725
1460
72
50
1.1
Y90S-4-H
3600
610
540
72
5000
410
290
73
3000
1060
1020
1750
76
60
1.1
Y90L-4-H
4500
870
775
76
6000
590
420
77
CGDL-50-2
8000
3320
3130
2920
91
50
15
Y160M2-2-h
10000
3030
2740
90
12000
2450
2040
91
CGDL-50-4
4000
830
790
1460
75
50
1.5
Y90L-4-H
5000
760
690
75
6000
620
510
75
4500
1220
1160
1750
79
60
2.2
Y100L1-4-H
6000
1090
980
79
7500
755
590
79
CGDL-55-4
4500
1010
970
1460
77
50
2.2
Y100L1-4-H
6400
880
800
77
8400
690
540
78
5400
1450
1390
1750
81
60
4
Y112M-4-H
7800
1260
1130
81
10500
930
710
82
CGDL-55-6
3400
420
400
970
68
50
0.75
Y90S-6-H
4200
390
350
68
5400
320
260
69
4000
610
580
1160
72
60
1.1
Y90L-6-H
5000
560
510
72
6400
450
380
73
CGDL-60-4
5400
1180
1130
1460
79
50
3
Y100L2-4-H
7600
1050
960
79
9500
790
650
79
6500
1690
1620
1750
84
60
5.5
Y132S-4-H
9000
1540
1410
83
12000
1040
820
89
CGDL-60-6
4500
470
440
970
70
50
1.1
Y90L-6-H
5600
410
360
70
6500
310
240
71
4500
710
680
1160
74
60
1.5
Y100L-6-H
6000
640
580
74
7800
430
340
75
CGDL-70-4
9000
1730
1670
1460
86
50
11
Y160M-4-H
11000
1700
1610
85
14000
1570
1420
85
17000
1320
1100
86
CGDL-70-6
7000
755
715
970
76
50
3
Y132M1-6-H
9000
700
640
76
11000
610
510
78
8000
1090
1040
1160
80
60
4
Y160L-4-H
10000
1030
950
80
13000
850
725
82
CGDL-80-4
14000
2030
1940
1460
90
50
15
Y160L-4-H
18000
1910
1760
89
21000
1640
1430
88
24000
1320
1060
88
CGDL-80-6
9000
920
880
970
79
50
4
Y132M1-6-H
12500
830
760
79
16000
590
470
80
9000
1330
1290
1160
83
60
7.5
Y160M-6-H
12000
1290
1230
83
15000
1190
1080
84
19000
850
690
84
More way to contact us
Tel: 86-23-68428875,68428422,68838417
Fax: 86-4008266163-88928
Email: sales@jinbomarine.com