CQ Marine Centrifugal Fan
Details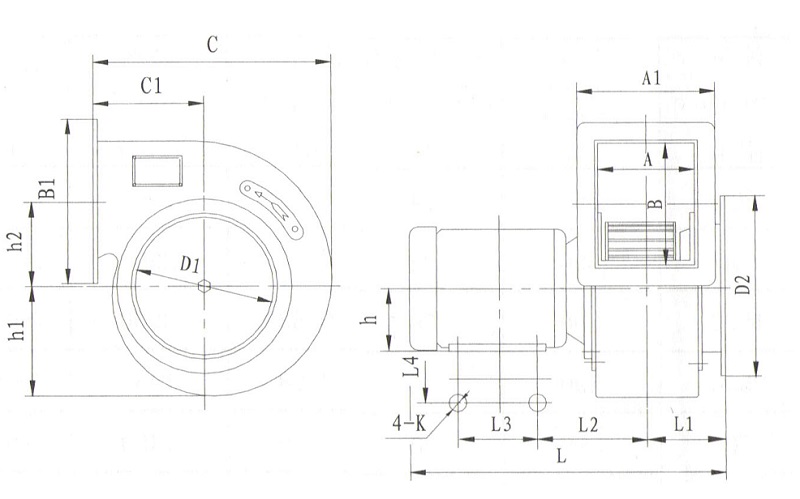 General:
CQ series marine centrifugal fan is capable of blowing air, such as ocean air containing salt vapor and corrosive air containing oil vapor and a small quantity of acid steam which generated by the natural evaporation of the batteries. So it can be widely used for ventilation of various cabin rooms and the boiler, they are also applicable in other places that suit.
The fan is designed and manufactured according to the standard of GB11865 《Marine Centrifugal Fan》and 《The manufacture Rules of Sea-going Steel Ships》which approved by the Register of the People's Republic of China.
Characteristics:
Small in size and light in weight . Low noise and low vibration .
Good anti-corrosiveness. Good air tightness
Small starting torque. Strongly performance of resisting swing, vibration and shocking
Structure type:
The fan is designed and manufactured into a horizontal structure type, also can be a vertical one. The impellers are riveted directly on the motor shaft extension. The impellers is made of aluminum alloy and carefully balanced in static and dynamic ways.
Both the casing and the air inlet are made of welded common steel.
The fan can be made for anticlockwise rotation (turn left) or Clockwise rotation (turn right):
The fan can be matched with marine AC motor 380V/50Hz or marine DC motor 220V.
Main Parameter:
Type
flow rate
(m3/h)
total pressure
(Pa)
Shaft
Power
(KW)
Speed
(r/min)
Motor (AC)
Model
Power(kw)
CQ1-J
400
290
0.07
2900
Y711-2-H
0.12
CQ 2-J
500
590
0.15
2900
Y711-2-H
0.37
CQ 3-J
800
590
0.24
2900
Y711-2-H
0.37
CQ 4-J
1800
590
0.53
2900
Y801-2-H
0.75
CQ 5-J
2500
590
0.68
1450
Y90S-4-H
1.1
CQ 6-J
3500
590
0.96
1450
Y90L-4-H
1.5
CQ 7-J
6000
590
1.64
1450
Y100L1-4-H
2.2
CQ 8-J
8000
590
2.18
960
Y132S-6-H
3
CQ 9-J
10000
590
2.65
960
Y132M1-6-H
4
CQ 10-J
900
1180
0.54
2900
Y801-2-H
0.75
CQ 11-J
1500
1180
0.76
2900
Y802-2-H
1.1
CQ 12-J
2200
1180
0.96
2900
Y90S-2-H
1.5
CQ 13-J
2800
1180
1.53
2900
Y90L-2-H
2.2
CQ 14-J
5000
1180
2.73
1450
Y112M-4-H
4
CQ 15-J
7500
1180
3.78
1450
Y132S-4-H
5.5
CQ 16-J
9000
1180
4.60
1450
Y132S-4-H
5.5
CQ 17-J
12000
1180
6.04
1450
Y132M-4-H
7.5
CQ 18-J
600
1960
0.55
2900
Y801-2-H
0.75
CQ 19-J
2000
1960
1.82
2900
Y90L-2-H
2.2
CQ 20-J
3500
1960
3.18
2900
Y112M-2-H
4
CQ 21-J
5000
1960
4.52
2900
Y132S1-2-H
5.5
CQ 22-J
9000
1960
7.00
1450
Y160M-4-H
11
CQ 23-J
800
4410
1.58
2900
Y90L-2-H
2.2
CQ 24-J
1000
1960
0.85
2900
Y802-2-H
1.1
CQ 25-J
12000
2450
13.4
2900
Y160-2-H
18.5
More way to contact us
Tel: 86-23-68428875,68428422,68838417
Fax: 86-4008266163-88928
Email: sales@jinbomarine.com