CWL Marine Small Size Centrifugal Fan
Details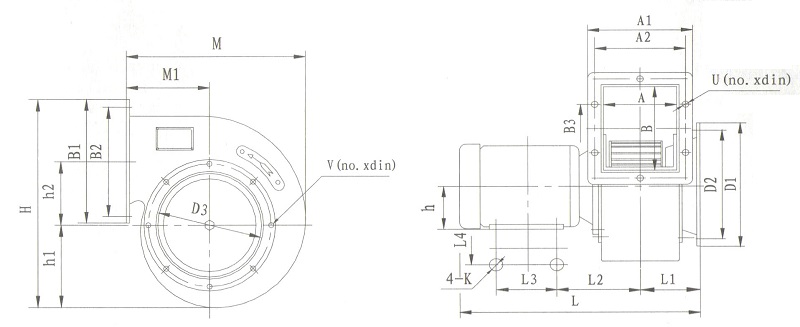 Application:
CWL (CXL) series small marine centrifugal fan is capable of blowing air, ocean air containing salt vapour, and corrosive air which contains oil vapour.
It can be used for ventilation of kitchen,toilet,bulkhead, meeting room and other cabins, as well as other suitable place in the filed of chemistry and industry, metallurgy on land.
This fan will explosion proof motor can deliver gas mixtures or vapour containing combustibles and explosives, can work normally in the dangerous field.
CWL (CXL) series fan is fitted with marine three phase tiny asynchronous motor.The power can be 380/220V, 50/60Hz.
Characterstics:
1. High parameter of pressure (H>1.4), high parameter of Capacties (Q>0.5), high efficiency (n>65).
2. Light in weight, small in size, reliable in operation, low noise.
3.Performance parameter is various and application is wide.
4.High strength, good anticorrosion.
5.Strong resistance against swing, vibration and impact.
Working Principle and Structure Type:
CWL (CXL) series marine small centrifugal fan is a kind of high efficiently fans. They are equipped with marine three-phase tiny asynchronous motor. The impellers of fan are consisting of strong foreward poly blades.The air enter the blade-passage from axial direction and produce energy by the centrifugal force, it is compressed and enter the pipeline from radial direction.
It is horizontal structure type, the impellers are mounted directly on the motor shaft.
The impellers are rivet jointed structure and the casing and entrance are welded. The impellers must be corrected by static and dynamic balance.
The fan can be made for left or right rotation.
Main Parameter:
Model
Flow rate(m3/h)
Total Pressure(Pa)
Static pressure(Pa)
Speed (r/min)
Motor
Freq(Hz)
Power (Kw)
Model
CWL-100D
110
90
67
1400
50
0.06
Y561-4-H
135
133
99
1700
60
0.09
CWL-100G
220
360
268
2800
50
0.09
Y561-2-H
270
532
396
3400
60
0.09
CWL-110D
150
110
80
1400
50
0.06
Y561-4-H
185
162
115
1700
60
0.06
CWL-110G
300
440
320
2800
50
0.12
Y562-2-H
370
648
472
3400
60
0.12
CWL-125D
220
140
102
1400
50
0.06
Y561-4-H
270
206
150
1700
60
0.06
CWL-125G
440
560
408
2800
50
0.18
Y631-2-H
540
824
600
3400
60
0.18
CWL-140D
300
180
135
1400
50
0.06
Y561-4-H
365
265
199
1700
60
0.06
CWL-140G
600
720
540
2800
50
0.25
Y632-2-H
730
1060
796
3400
60
0.37
Y711-2-H
CWL-160D
450
230
170
1400
50
0.12
Y631-4-H
550
339
251
1700
60
0.12
CWL-160G
900
920
680
2800
50
0.37
Y711-2-H
1100
1366
1004
3400
60
0.75
Y801-2-H
CWL-180D
640
290
217
1400
50
0.37
Y712-4-H
780
428
320
1700
60
0.37
CWL-180G
1280
1160
868
2800
50
0.75
Y801-2-H
1600
1812
1356
3500
60
1.5
Y90S-2-H
CWL-200D
900
375
276
1400
50
0.55
Y801-4-H
1080
553
407
1700
60
0.55
CWL-200G
1880
1631
1201
2920
50
1.5
Y90S-2-H
2250
2343
1752
3500
60
2.2
Y90S-2-H
More way to contact us
Tel: 86-23-68428875,68428422,68838417
Fax: 86-4008266163-88928
Email: sales@jinbomarine.com