BLT084 Eye Type Rotary Ring Unc Thread With Stopplate
Details
BLT084 Eye Type Rotary Ring Unc Thread With Stopplate
1.BLT084 is equipped with a locking wrench, and BLT094 is equipped with a stop screw, which can be easily installed after being locked, and the lifting ring can be rotated after loosening.
2.4 times safety factor
Different loads can be lifted in different directions, but 4 times safety factor is guaranteed
3.Complete specifications
The thread specifications are complete, the rated load range is wide (M8-M48, 0.32T-32T), and the thread size can be customized according to customer requirements.
4.Alloy steel, electrostatic spraying
The bolts are made of alloy steel 42CrMo, the tensile strength before heat treatment is 1080Mpa, the mechanical properties are improved after the material is changed, and the surface of the ring is sprayed with electrostatic spraying after boiling to improve the surface anti-corrosion ability.
BLT084 Eye Type Rotary Ring Unc Thread With Stopplate Drawing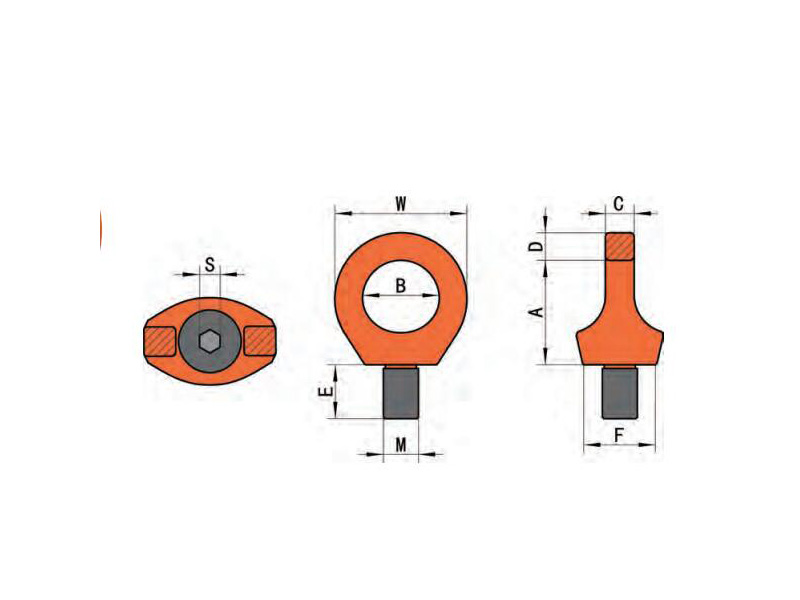 BLT084 Eye Type Rotary Ring Unc Thread With Stopplate Parameters
ITEM NO.
WLL/T
TPI
WEIGHT/KG
X
(Z)
BLT084-5/16
0.3
(1)
5/16-18UNC
0.2
BLT084-3/8
0.4
(1)
3/8-16UNC
0.2
BLT084-7/16
0.75
(2)
7/16-14UNC
0.3
BLT084-1/2
0.75
(2)
1/2-13UNC
0.3
BLT084-5/8
1.5
(4)
5/8-11UNC
0.5
BLT084-3/4
2.3
(6)
3/4-10UNC
0.7
BLT084-7/8
2.3
(6)
7/8-9UNC
0.8
BLT084-1
3.2
(8)
1-8UNC
1.2
BLT084-1 1/4
4.5
(12)
1 1/4-7UNC
2.2
BLT084-1 1/2
9
(24)
1 1/2-6UNC
6.5
BLT084-1 3/4
12
(32)
1 3/4-5UNC
10
ITEM NO.
TECHNICAL PARAMETERS/MM
E
A
B
C
BLT084-5/16
12
35
25
8.5
BLT084-3/8
15
35
25
8.5
BLT084-7/16
18
42
30
10
BLT084-1/2
18
42
30
10
BLT084-5/8
24
50
35
16
BLT084-3/4
30
58
40
16
BLT084-7/8
30
58
40
16
BLT084-1
36
72.5
48
19
BLT084-1 1/4
45
88.5
60
25
BLT084-1 1/2
63
121.5
82
37
BLT084-1 3/4
72
138.5
94
42
ITEM NO.
TECHNICAL PARAMETERS/MM
D
F
S
W
BLT084-5/16
11
28
6.5
47
BLT084-3/8
11
28
6.5
47
BLT084-7/16
13
34
8.5
56
BLT084-1/2
13
34
8.5
56
BLT084-5/8
15
42
10.5
65
BLT084-3/4
17.5
50
12.5
75
BLT084-7/8
17.5
50
12.5
75
BLT084-1
21
61
14.5
90
BLT084-1 1/4
26
74
17.5
112
BLT084-1 1/2
28
106
24.5
158
BLT084-1 3/4
43
124
27.5
180
More way to contact us
Tel: 86-23-68428875,68428422,68838417
Fax: 86-4008266163-88928
Email: sales@jinbomarine.com