Double Legs Spliced Wire Rope Sling
Category:Chain Sling
Material:Galvanized Steel Wire Rope
Standards:GB/T16271-1996.
Packing Details:Standard Export Packaging
Fob Price:Get Latest Price Now
Place of Origin:China
Details
China Double Legs Spliced Wire Rope Sling:
The specification of the steel wire rope in the form with the working load is: 6*37+FC-1670;
The 0-90 can be used if the customers do not have any special requirement.
Different construction rope with different working load, we can calculate the working load of the steel wire rope construction that the customer required.
According to the Standard GB/T16271-1996.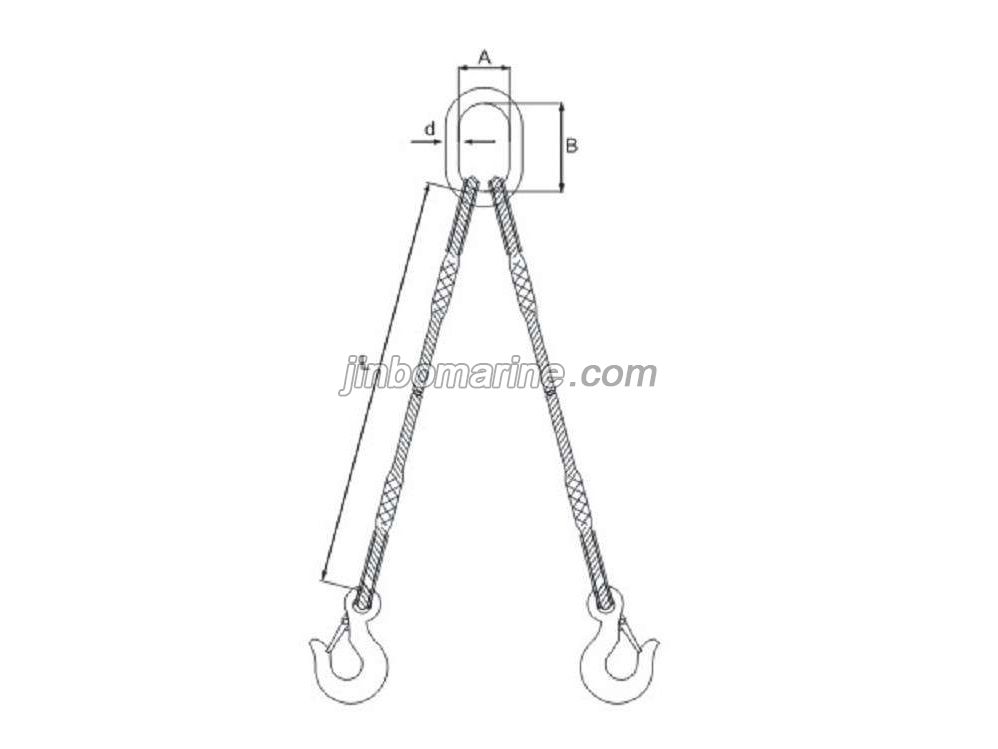 Producs type
Dia of rope(d)
(mm)
Working load
limit
A×B×d
Hook
(kN)
(mm)
Art NO.
Working load(t)
VCSH06
6
2.7
65×130×16
(US)S6
0.75
VCSH07
7
3.6
65×130×16
(US)S6
0.75
VCSH08
8
4.7
65×130×16
(US)S6
0.75
VCSH09
9
6
65×130×16
(US)S6
0.75
VCSH10
10
7.4
65×130×16
(US)S6
0.75
VCSH11
11
8.9
65×130×16
(US)S6
1
VCSH12
12
11
65×130×16
(US)S6
1.5
VCSH13
13
12
65×130×16
(US)S6
1.5
VCSH14
14
14
65×130×16
(US)S6
1.5
VCSH16
16
19
65×130×16
(US)S6
2
VCSH18
18
24
80×150×20
(US)S6
3
VCSH20
20
30
80×150×20
(US)S6
3
VCSH22
22
36
90×160×24
(US)S6
5
VCSH24
24
42
90×160×24
(US)S6
5
VCSH26
26
50
90×160×24
(US)S6
5
VCSH28
28
58
100×190×28
(US)S6
7.5
VCSH30
30
66
100×190×28
(US)S6
10
VCSH32
32
76
100×190×28
(US)S6
10
VCSH34
34
85
110×200×32
(US)S6
10
VCSH36
36
96
110×200×32
(US)S6
15
VCSH38
38
106
120×230×34
EYE
15
VCSH40
40
118
120×230×34
EYE
15
VCSH42
42
130
135×250×38
EYE
15
VCSH44
44
143
135×250×38
EYE
15
VCSH46
46
156
140×270×42
EYE
37
VCSH48
48
170
140×270×42
EYE
37
VCSH50
50
185
140×270×42
EYE
37
VCSH52
52
200
140×270×42
EYE
37
VCSH54
54
215
140×270×42
EYE
37
VCSH56
56
231
160×310×46
EYE
37
VCSH58
58
248
160×310×46
EYE
37
VCSH60
60
266
160×310×46
EYE
37
More way to contact us
Tel: 86-23-68428875,68428422,68838417
Fax: 86-4008266163-88928
Email: sales@jinbomarine.com