RDS Series Marine Submerged Chemical Cargo pumps
Details
RDS Series Marine Submerged Chemical Cargo pumps
General
We have already obtained a national invention patent for RDS submerged cargo pumps .RDS submerged cargo pump are supplied with various capacities chemical carries for safe and profitable cargo handing, efficient stripping and tank cleaning, and meets all the new international rules and regulations .The most important benefits of installing a RDS cargo pumping system are:Segregation of cargoes and safty for vessel and environment Increase in annual transport volume Efficient stripping and tank cleaning.
The cargo pump rests on a deck trunk welded to the deck . All the connections are on the top plate, to which a capacity control valve is also mounted for remote and local opertion of the cargo pump. This control valve automatcially regulates hydraulic pressure and oil flow to the motor Top plate.
Pumping system introduce
RDS hydraulically driven submerged cargo pumps
All RDS submerged cargo pump have stainless steel in contact with the cargo as standard Depending on their length,cargo pumps are supplied assembled for direct installation in cargo tanks.
The pipestack between the topplate and the pump head consists of the main cargo pipe, stripping and purging pipings, and a concentric hydraulic . The hydraulic high pressure pipe is located inside the return pipe, hydraulic end and pump head are absolutely segregated at the complete hydraulic section and the safety of hydraulic system and cargo are guaranteed.
Features
Pump material stainless steel ;
Stepless capacity control , local and remote operation;
Single –stage, single –suction impeler – axially balanced;
Hydraulic section and pumphead are absolutely segregated;
Bearings lubricated by lubricant oil not hydraulic oil;
Seal monitoring from top plate and deck truck;
Two mechanical seals are adopted, one against bearings lubricants oil and another against cargo;
The set-mounted mechanical seal is adopted, so it is easy to install and replacement;
Mechanical seal is adopted so the seal life and reliability is guaranted increase;
The mechanical seals are lubricated by cleaning liquid (such as clean water);
In-tank replacement of wear and tear parts without interfering with the hydraulic section.
Pump desigh permits "dry running "during stripping and tank cleaning;
Hydraulic prime mover
Hydraulic prime mover including:
Cabling/piping supplied to common connections
Skid – mounted modules
Variable hydraulic pumps
Full-flow filter system
Stainless steel tank
Oil sample system
Control systems
The electric-hydraulic control is adopted, the control panel contains a potentiometer and manometer for each pump, for stepless capacity control . Electrical connections run between the control panel and a proportional valve block located in a safe area , where the electric control signals are transformed in to hydraulic singnals. Only hydraulic pilotlines run between the proportional valve block and the individual pumps . This control system can be interfaced to any We can supply a series of components, such as flexible bulkhead adaptors, flexible clamps, weld-free flanges, etc. Also supply a complete pipes and responsible for the installation of services.
Discharging
RDS submerged cargo pumps can be started fom the remote control panel ,or locally on their capacity control valves. Stepless capacity control eliminates start-up shocks in the pump and associated cargo lines. Independent of discharge head of specific gravity and viscosity of cargo, automatic torque control is contiuously maintained . Maximum discharge rate will awlways be reached. Hydraulic drive enables the cargo pump to operate optimally on all types of cargo and unaffected by any back pressure from the terminal . Power consumption is automatically matically matched to the discharge situation.
Stipping
runing" situation does the pump no harm , as all vital parts are cooled and lubricated. All our cargo pumps, including the largest models, satisfy international rules and regulations concerning cargo stripping.
Machinical seal monitoring
Any leakages through the cargo or hydraulic oil seals can be monitored by observing the scales of two exhaust traps scale arranged on the deck. This reliable monitoring system keeps operators aware of the condition of the pump's seal arrangements without the need for electrical sensors ,or additonal mechnical devices.
Performance Curve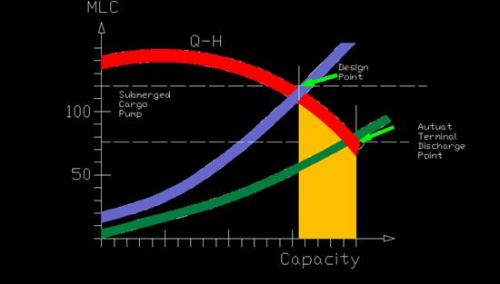 More way to contact us
Tel: 86-23-68428875,68428422,68838417
Fax: 86-4008266163-88928
Email: sales@jinbomarine.com