Details
China Ceiling Air Diffuser: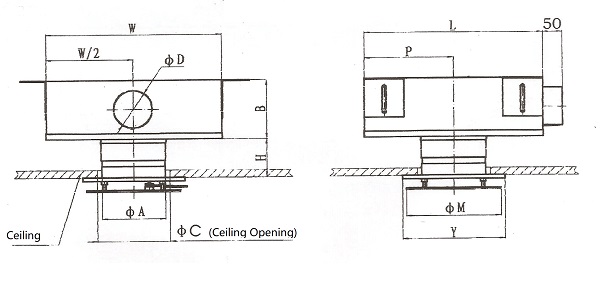 Air diffuser is also called cabin unit, it is a kind of terminal unit of marine air conditioning system.
Ceilding Air Diffuser is mainly composed of static pressure box, air volume regulator and diffuser. The air volume has the function of primary air volume limit and secondary air volume regulation. The primary limit mechanism of transmission is used to balance the air volume, so that the air volume distribution reaches the design value. The Secondary air volume is manually adjusted by the crew's own comfort level.
Material: Aluminized zinc plate
Main Size:
Model No
A
D
Y
C
L
B
P
M
H
Flow Rate (m3/h)
CMJ-25
160
78
260x260
185
450
150
225
240
50-75, 97-95, 100-120
0-250
CMJ-35
160
98
260x260
185
450
150
225
240
0-350
CMJ-45
160
123
260x260
185
450
150
225
240
0-450
CMJ-50
200
123
320x320
230
600
200
200
284
0-500
More way to contact us
Tel: 86-23-68428875,68428422,68838417
Fax: 86-4008266163-88928
Email: sales@jinbomarine.com